HOW TO ASSEMBLE A LAYERED NUTCRACKER
This post may contain affiliate links. Please see my Privacy Policy for full details.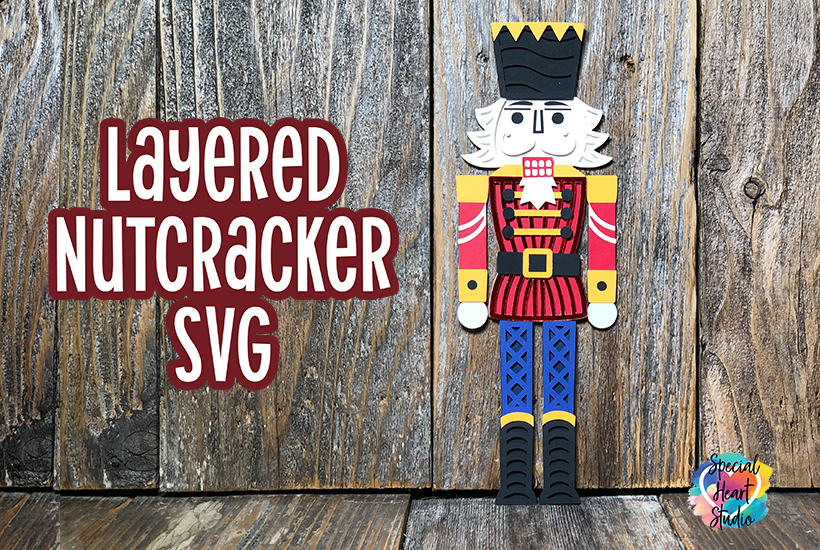 When I think if Christmas and traditions, one of my favorite is going to the Nutcracker Ballet. Unfortunately, it won't be happening this year. Nutcrackers also make great Christmas decorations, so just had to add one to my growing collection of free layered designs.
I don't mind if you use these designs for personal or small business commercial use up to 200 items, but please do not re-sell or re-distribute the files. I'd ask that you direct your crafty friends here to download the files themselves. Also, I don't allow my designs to be used in print-on-demand shops or on transfers that will be sold. Click HERE for complete Terms of Service.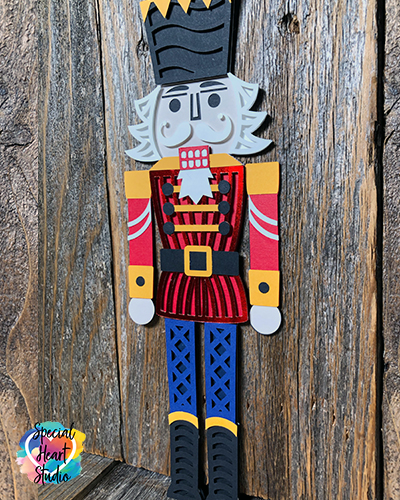 HOW TO CUT AND ASSEMBLE A LAYERED NUTCRACKER
This project requires many small pieces, so grab your stash of card stock scraps and get creative! I've included a video showing exactly how I assembled my Nutcracker. I tried to keep the video as short as possible, but yet show all the steps of how I assembled the project. ❤️
MATERIALS NEEDED FOR LAYERED NUTCRACKER
65 lb Cardstock – I used Recollections Brand Cardstock from Michaels along with scraps I had in my stash.
Art Glitter Glue – Don't let the name deceive you, this glue has no glitter. You can purchase the precision tip. It's the best for intricate paper projects.
Micro-Foam Tabs – These micro-foam tabs are perfect for the thin lines on the top layer of the cat.
Foam tabs – For the Nutcracker, I used Recollections Adhesive Foam Circles. They work well with the Micro-Foam tabs above as they're similar in depth.
Light grip mat (blue light grip)
Cricut Maker – or your favorite cutting machine.
Design #100 – Layered Nutcracker SVG – The free SVG cut file (available in my freebie vault—get the password at the bottom of this post).
Grab your smaller scraps, they're perfect for the majority of this project!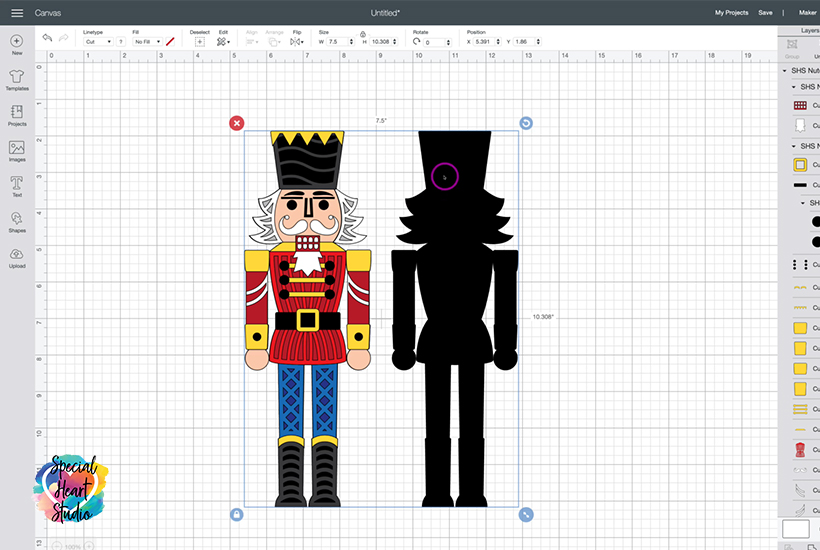 The bottom layer is duplicated. If you plan to have your Nutcracker stand on a display and are using a lighter weight cardstock, I'd recommend cutting two bottom layers for stability. Heavier weight paper could also be used on the bottom layer.
If you need to resize the design for your project, it's recommended to do that while the entire project is still grouped. This will ensure all proportions are maintained.
Using a Brayer will keep your paper securely attached to your mat reducing tearing. I cut the Nutcracker pictured with 65lb weight cardstock from Michaels.
Once all layers have been cut and carefully removed from the mat, you're ready to assemble. Refer to my video above for detailed assembly instructions.
PLEASE SHARE PRIOR TO DOWNLOADING
Please share! If you enjoy this project/design, please share it on your social media platform or your favorite Pinterest board. I greatly appreciate it!! That helps my blog continue to grow and enables me to continue to provide free designs. 💕 Thank you!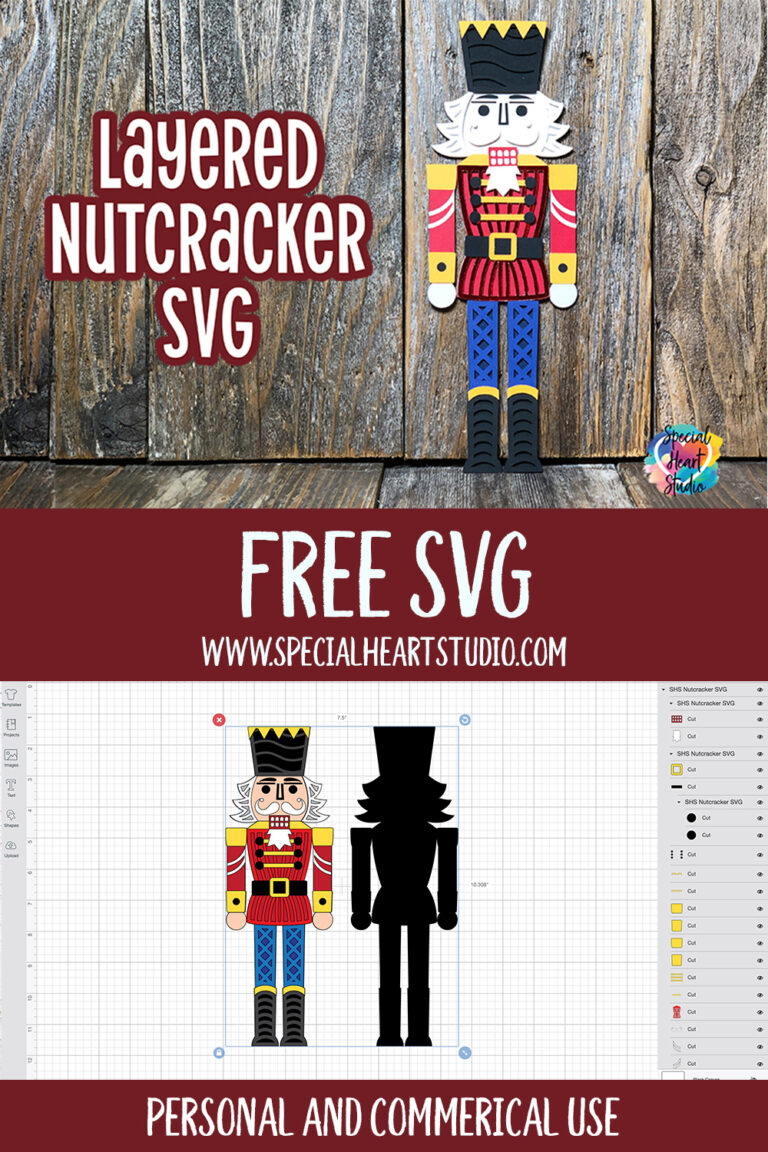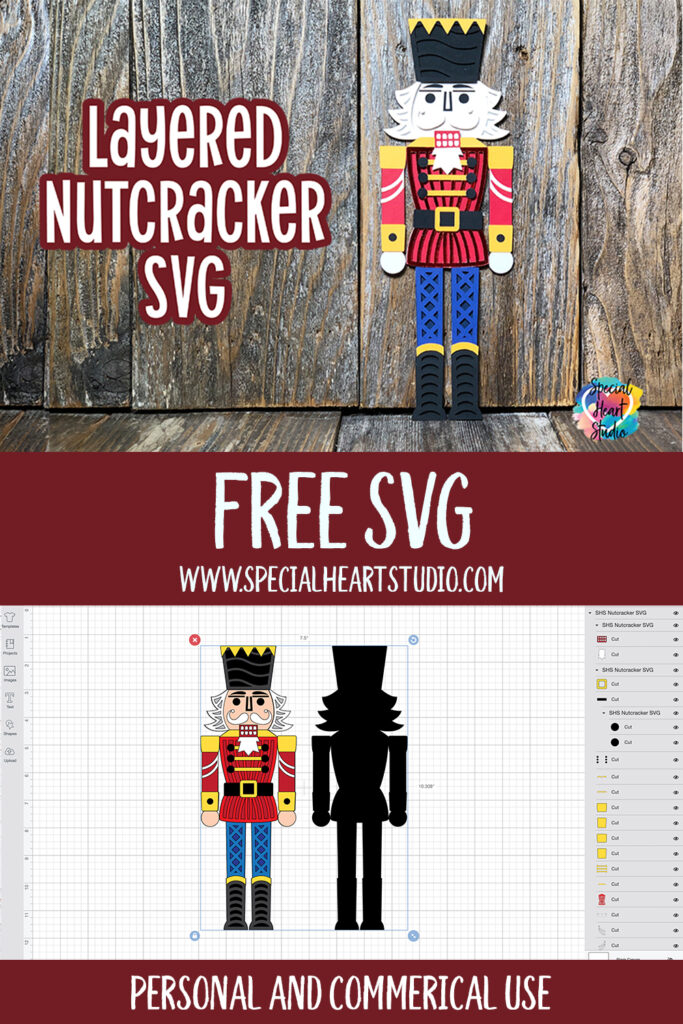 DOWNLOAD MY LAYERED NUTCRACKER BY SUBSCRIBING (FREE) BELOW TO GET THE PASSWORD TO MY FREEBIE VAULT