How To Make A Layered Shamrock Mandala With Print Then Cut Background
This post may contain affiliate links. Please see my Privacy Policy for full details.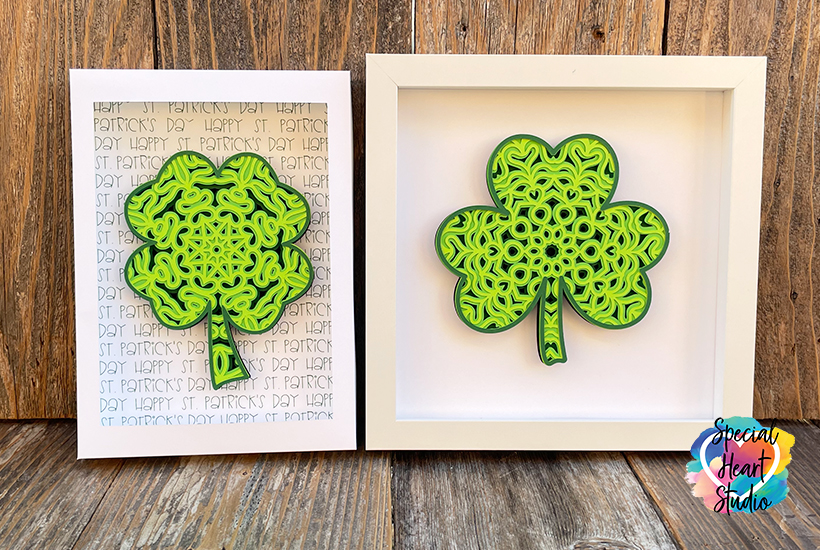 Shamrocks! Nothing says St. Patrick's Day more than shamrocks. In preparation for the upcoming holiday, I've created a couple of new Layered Mandala designs. I couldn't decide between a three or four-leaf shamrock, so designed one of both. ☘️
In the photo above, the four-leaf shamrock is in a Rectangle Cardstock Shadow Box Frame that I designed. You can find that post HERE. The Happy St. Patrick's Day background is available with the Layered Shamrock Mandalas on this post. Read on to learn how to use the print then cut background.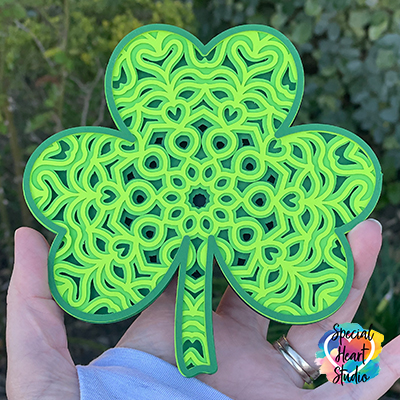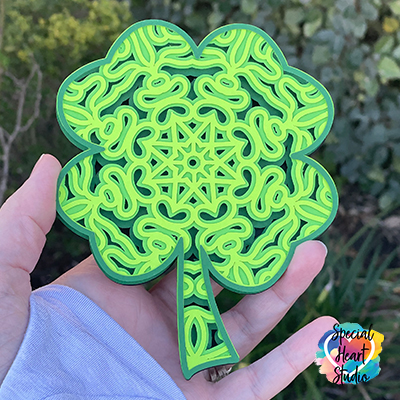 I don't mind if you use these designs for personal or small business commercial use up to 200 items, but please do not re-sell or re-distribute the files. I'd ask that you direct your crafty friends here to download the files themselves. Also, I don't allow my designs to be used in print-on-demand shops or on transfers that will be sold. Click HERE for complete Terms of Service.
How To Cut And Assemble A Layered Shamrock Mandala With Optional Print Then Cut Background
Included in the download for this post is three SVG designs.

In the written tutorial below I will focus on using the Happy St. Patrick's Day background with the four-leaf Layered Shamrock Mandala. I then cut the Rectangle Shadow Box Frame that can be found HERE.
New to Design Space and looking for help with how to upload? Click HERE to find directions to get started.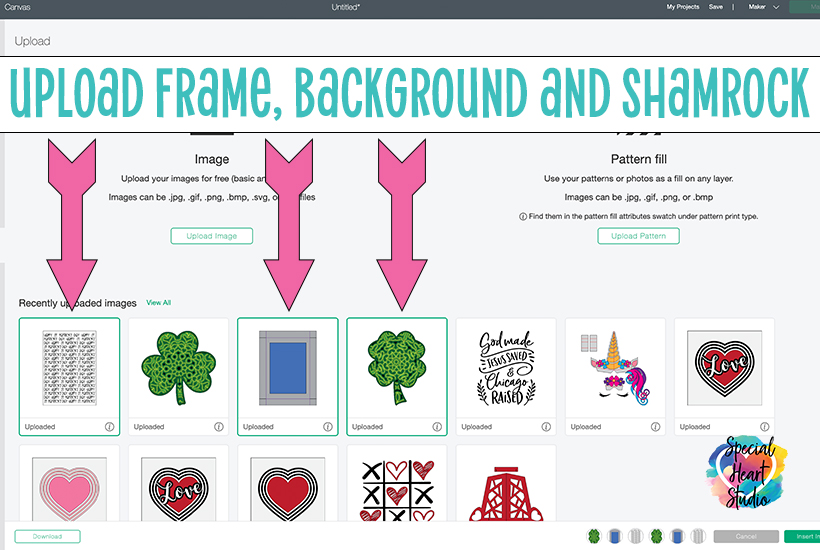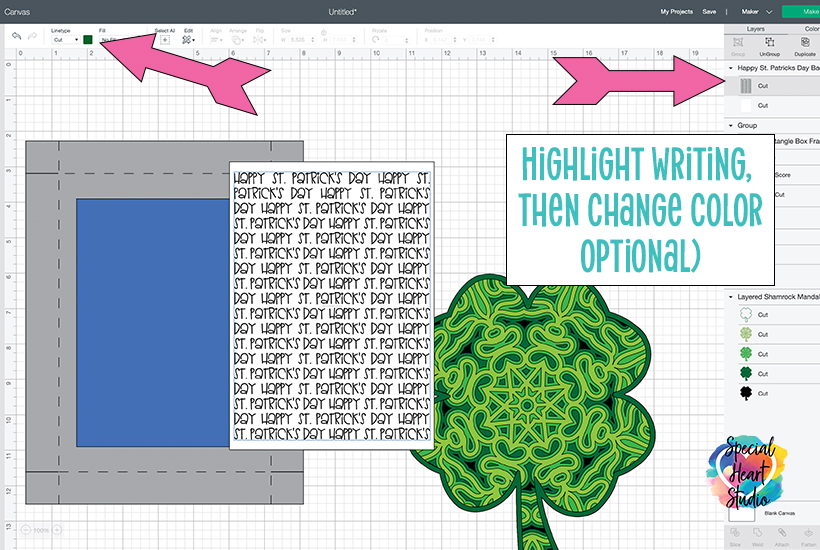 Once uploaded, we'll first focus on the Happy St. Patrick's Day background piece. On-screen, it will appear black, but in fact, it's saved in a green color. If you'd like to change the color of the writing, highlight the writing layer, then select your desired shade.
Next, select both the writing layer and the rectangle shape (you can also change that color, if desired) then click Flatten.
Next, resize the shamrock layers while grouped to fit your project needs. I placed the shamrock on top of the frame layer to determine the appropriate size as pictured above. We're now ready to "Make It".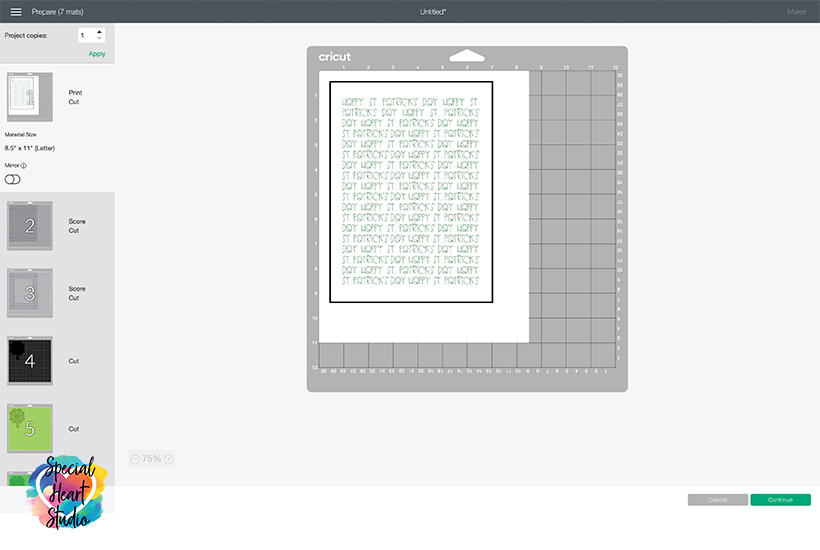 After clicking "Make It", you'll be taken to the prepare mats screen. Here you'll see the print then cut design with the black rectangle (registration marks for your Cricut) to read. If your mats look correct, click continue.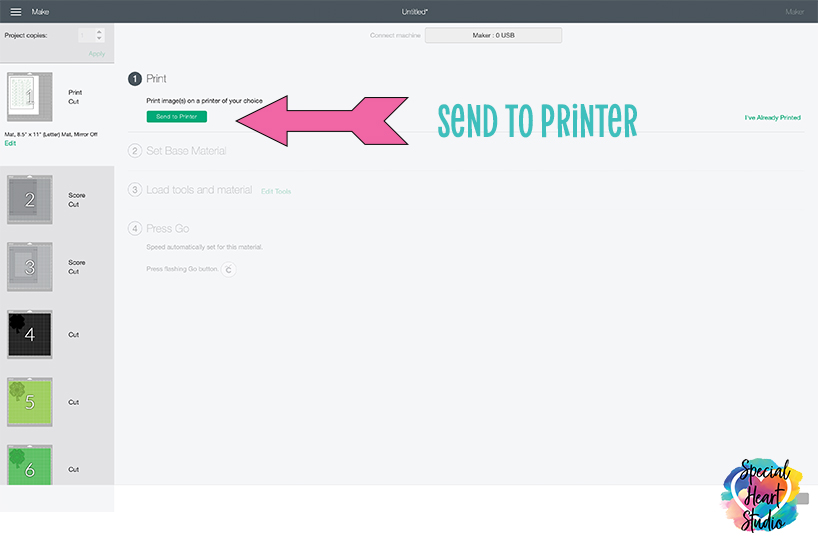 Next, we'll print the Happy St. Patrick's Day background layer. Click "Send To Printer".
Select your printer if it didn't appear in the print setup box, then click Print. Note: since we've flattened the design, you can leave the "Add Bleed" button on. It will not affect this design.
Once your background has printed, the next step is to select your base material. I printed the background in my photos on 65lb. cardstock. I've found with my Maker, I can cut 65lb. cardstock perfectly with the Light Cardstock setting. Machines can vary, so be sure to test cut your material to find a setting the works for your machine and blade.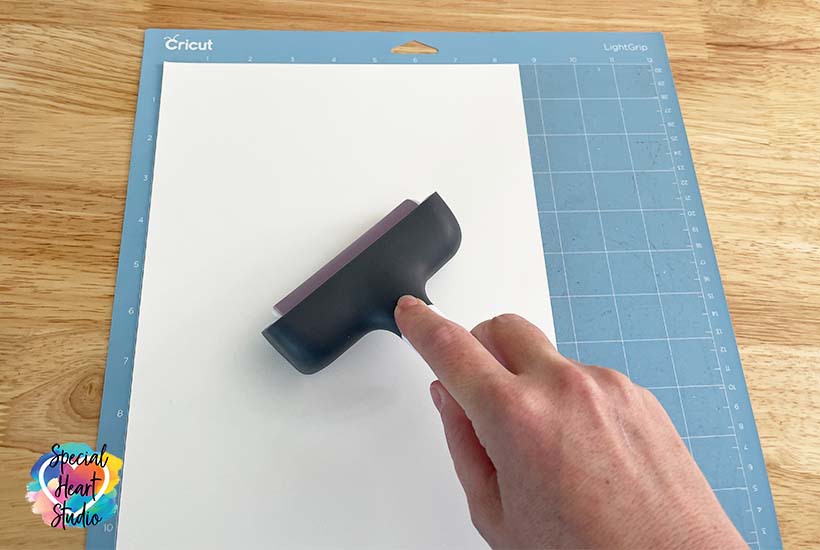 To prepare for cutting, use a brayer when placing paper on the mat. This greatly reduces the paper from slipping, which is a frequent cause of tears during cutting.
Once your layer has cut, it's best to remove the mat from the paper. Turn the mat upside down on your work surface and gently bend it back while keeping the paper flat on your surface.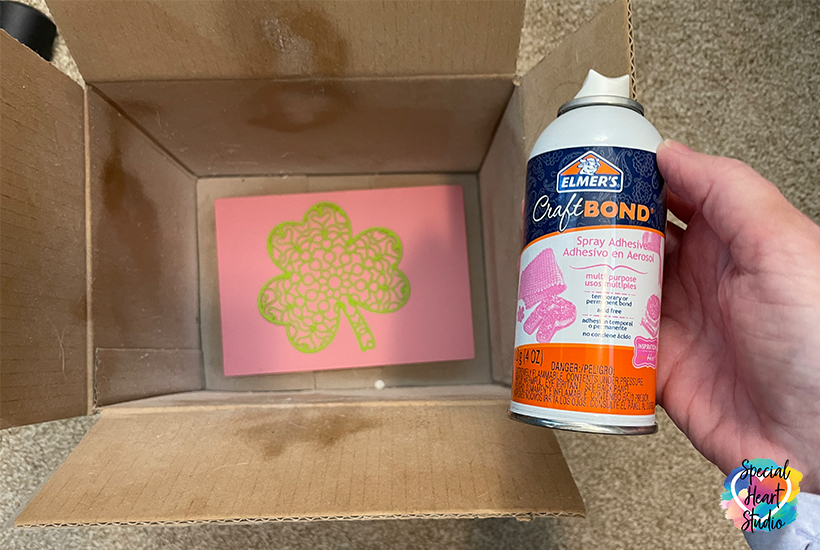 Because the top few layers are so thin, I used Elmers Craft Bond spray glue to adhere the top 3 layers to each other. I place the piece that needs glue in the bottom of a box that I keep to keep overspray to a minimum.
To add a touch of depth to the project, I added foam Tombow Foam Tabs between the bottom two layers.
Simply attach the Layered Shamrock Mandala to your Happy St. Patrick's Day print then cut background and place it in the shadow box frame. A cute and simple holiday decoration.
Please Share Prior To Downloading
Please share! If you enjoy this project/design, please share it on your social media platform or your favorite Pinterest board. I greatly appreciate it!! That helps my blog continue to grow and enables me to continue to provide free designs. 💕 Thank you!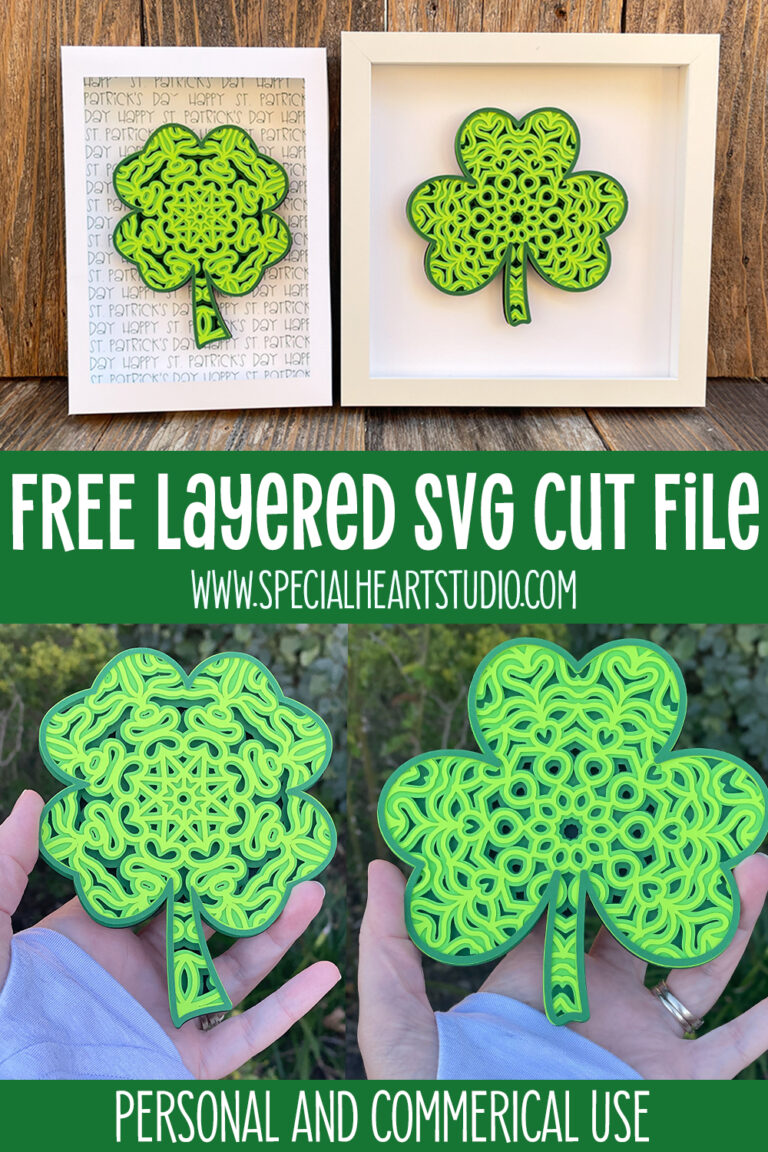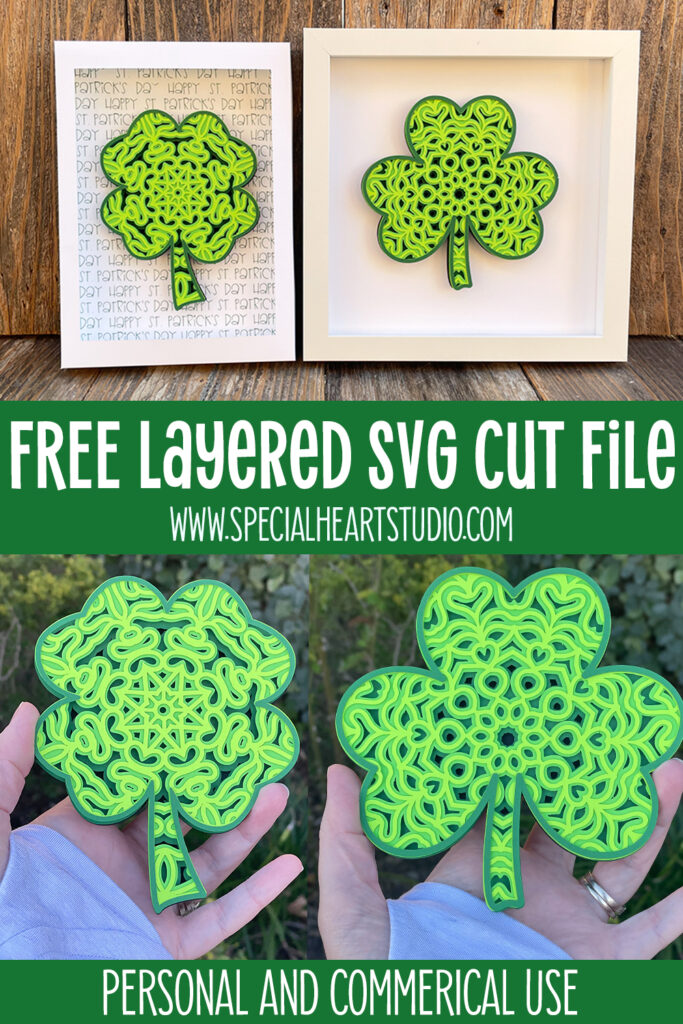 Download the Layered Shamrock Mandala SVG Cut File By Subscribing (FREE) Below To Get The Password To My Freebie Vault
DOWNLOAD the Layered Shamrock Mandala and Happy St. Patrick's Day background SVG Cut files by entering the password to my Freebie Vault. Click HERE to go to the freebie vault, my library of free downloads. To sign up for a password to my free designs, enter your name and email address below. ⬇️