This post may contain affiliate links. Please see my Privacy Policy for full details.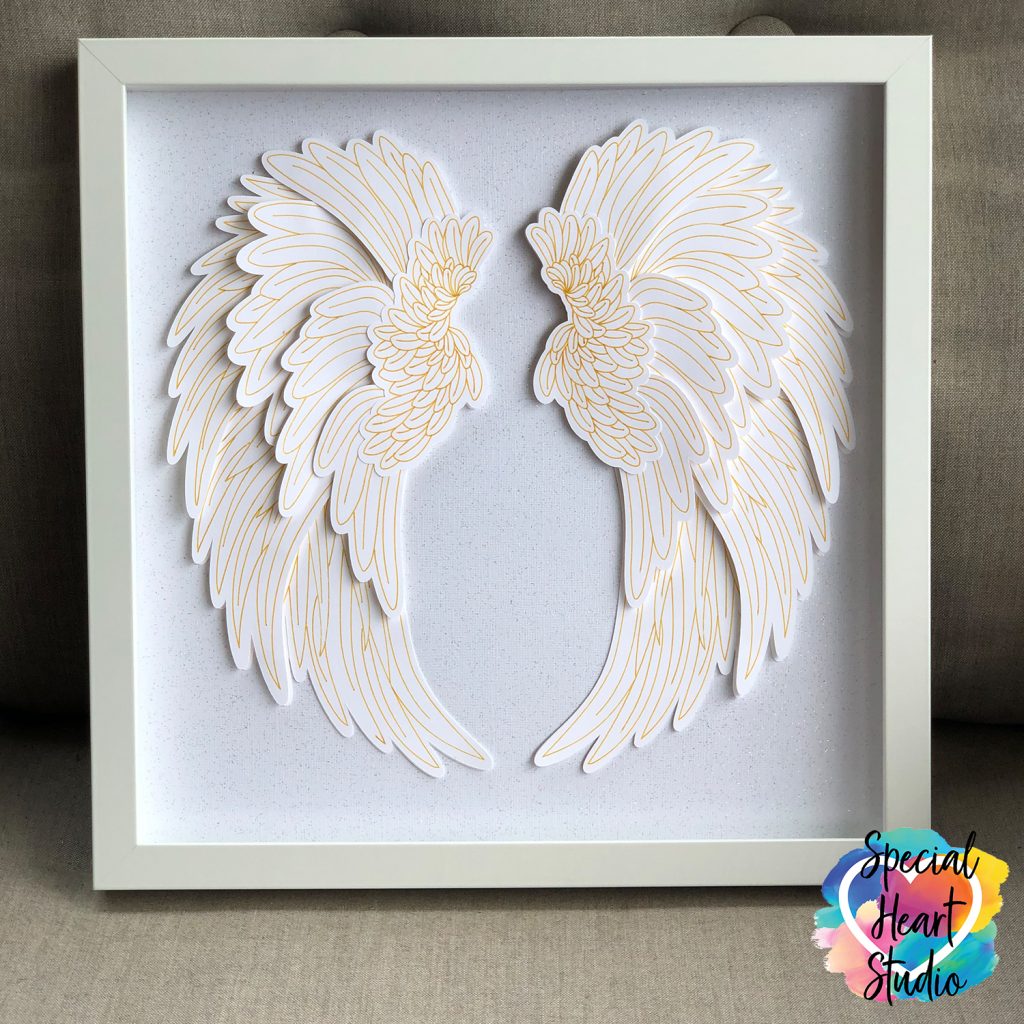 FREE LAYERED ANGEL WINGS AND MEMORIAL CUT FILES
Something about angel wings just bring me peace and joy. This past weekend I received a request for an angel design. Although I've not yet come up with an idea of how to put that together, these angel wings came pouring out of my thoughts. I plan to hang the white angel wings in my craft area. These wings look pretty alone or with the saying "Your Wings Were Ready But My Heart Was Not" added. Both cut files can be downloaded below free.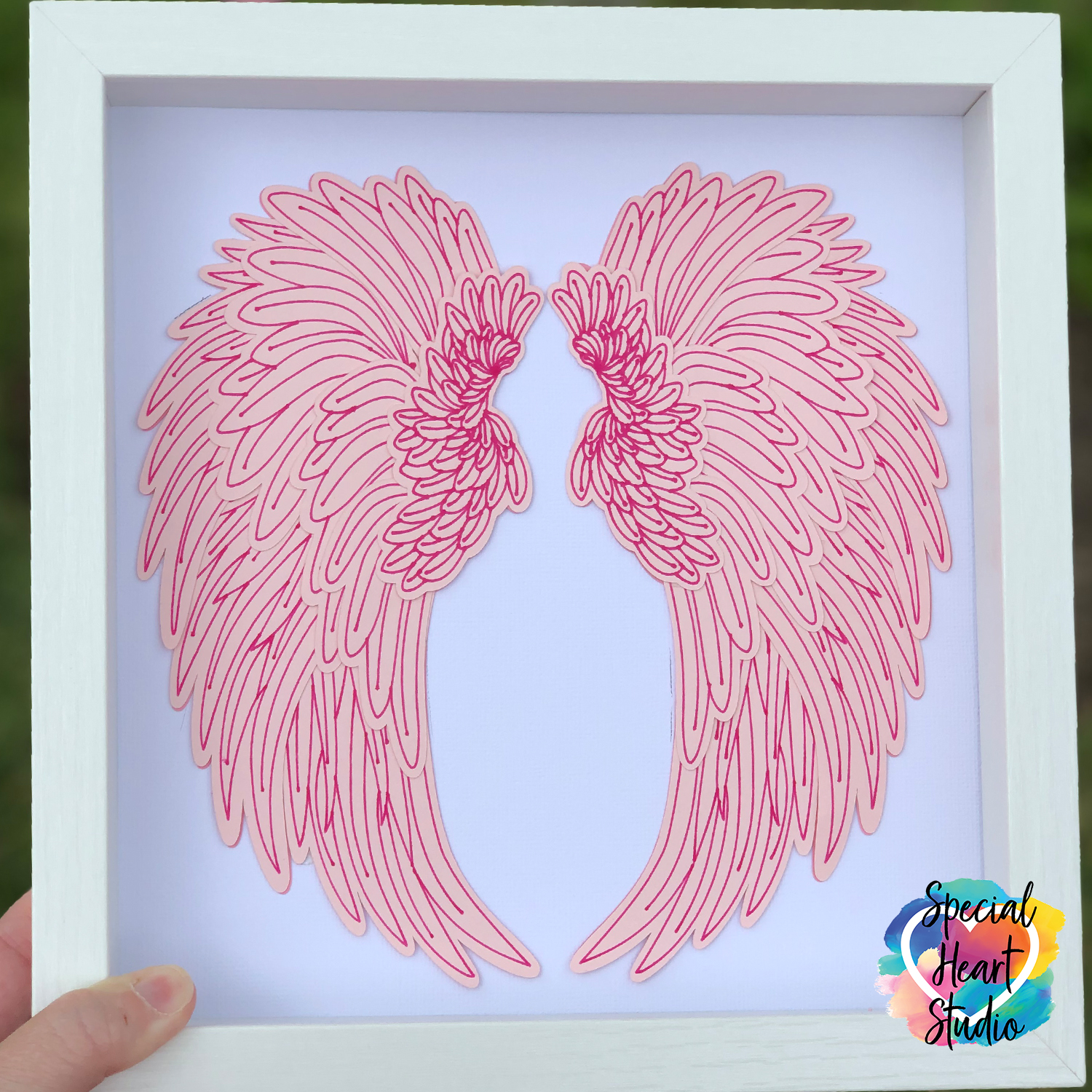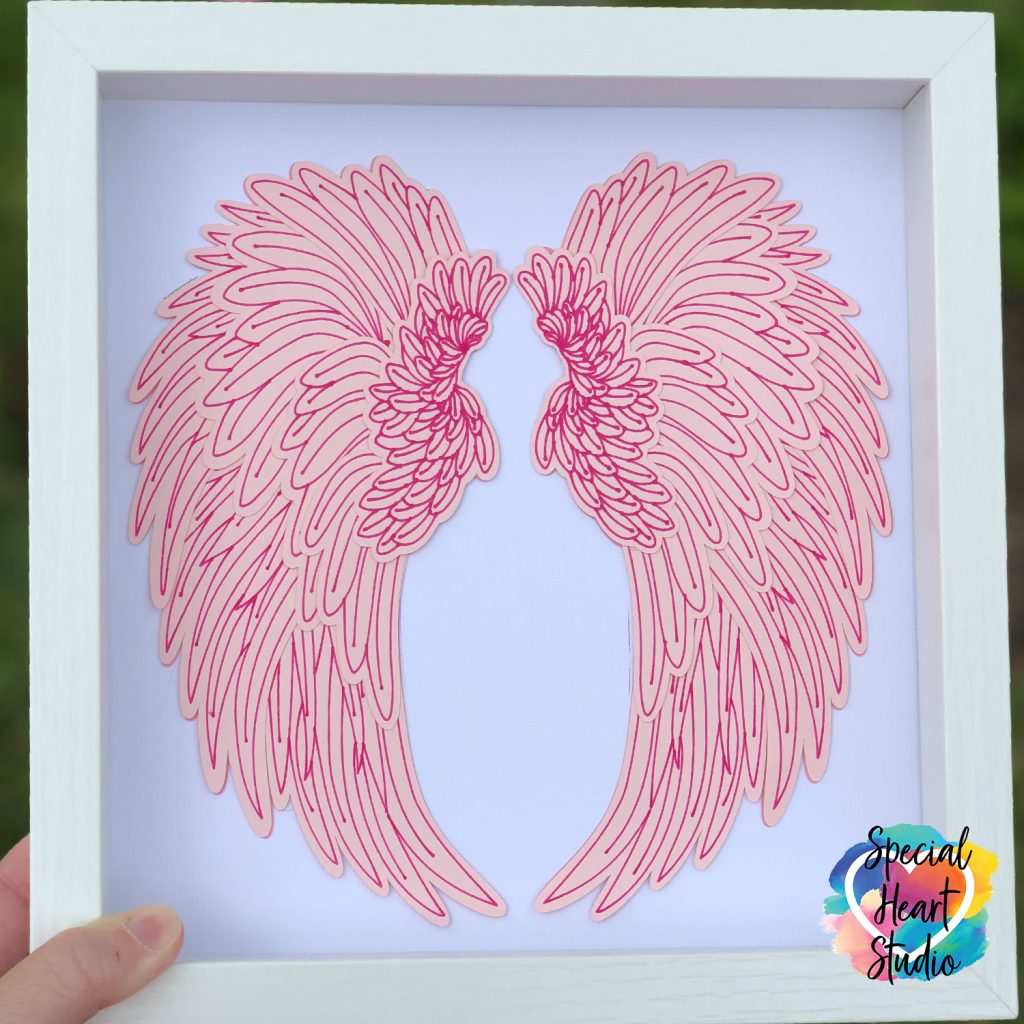 MATERIALS NEEDED FOR LAYERED ANGEL WINGS
Cricut Pens – On the white wings, I used a gold metallic gel pen.
Foam tabs – These foam tabs from Tombow are my absolute favorite. They're thick enough to provide a good dimension to each project. The description is a bit deceiving as it states 50 tabs. In fact, there are 464 in the package, 50 large and 414 small sizes.
Glue or tape runner
Adhesive Vinyl – Optional for wording on glass
Shadow Box
Light grip mat (blue light grip)
Cricut Maker – or your favorite cutting machine.

SETTING UP THE DESIGN IN CRICUT DESIGN SPACE
Upload the Layered Angel Wing cut file to Cricut Design Space.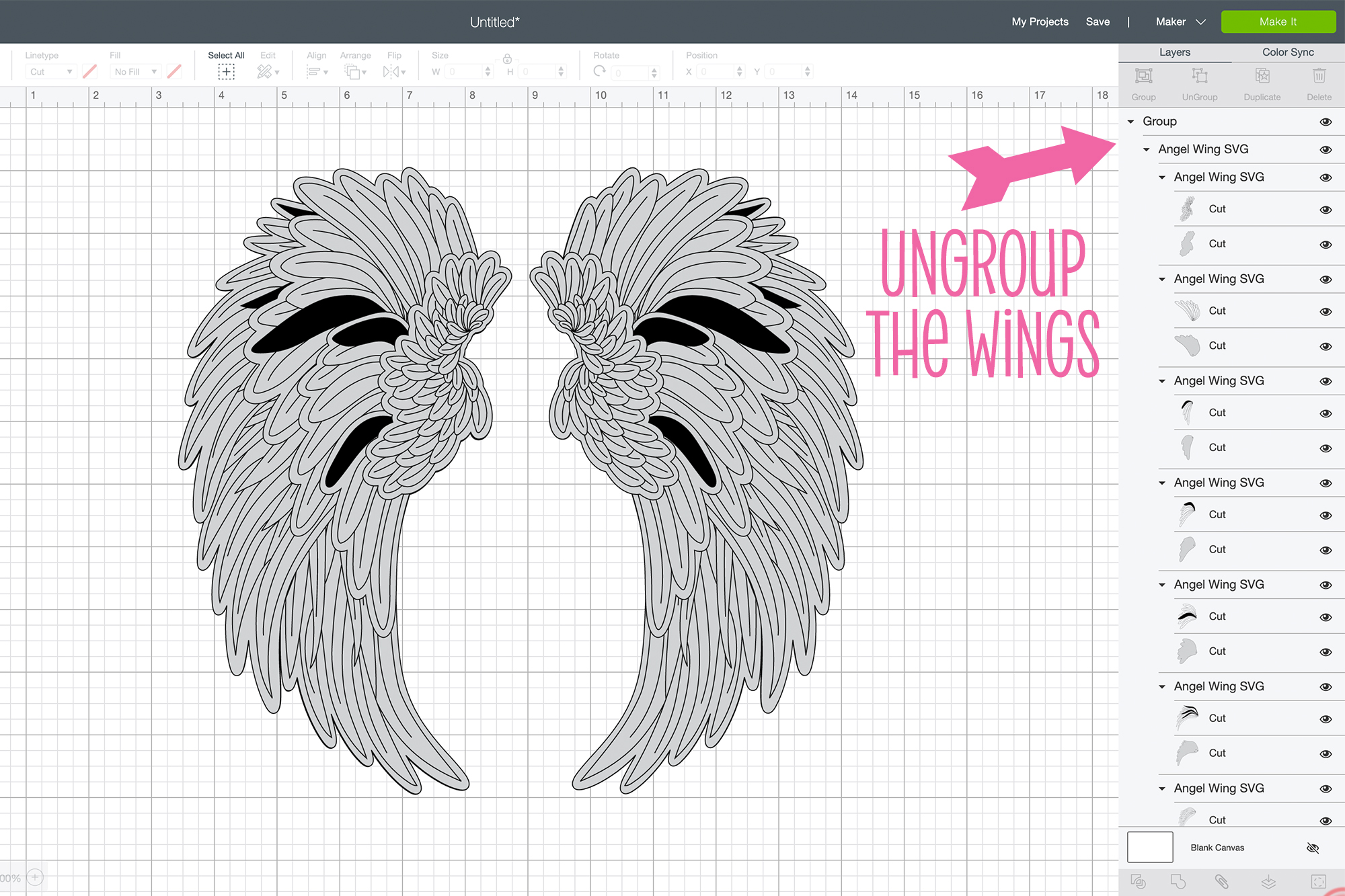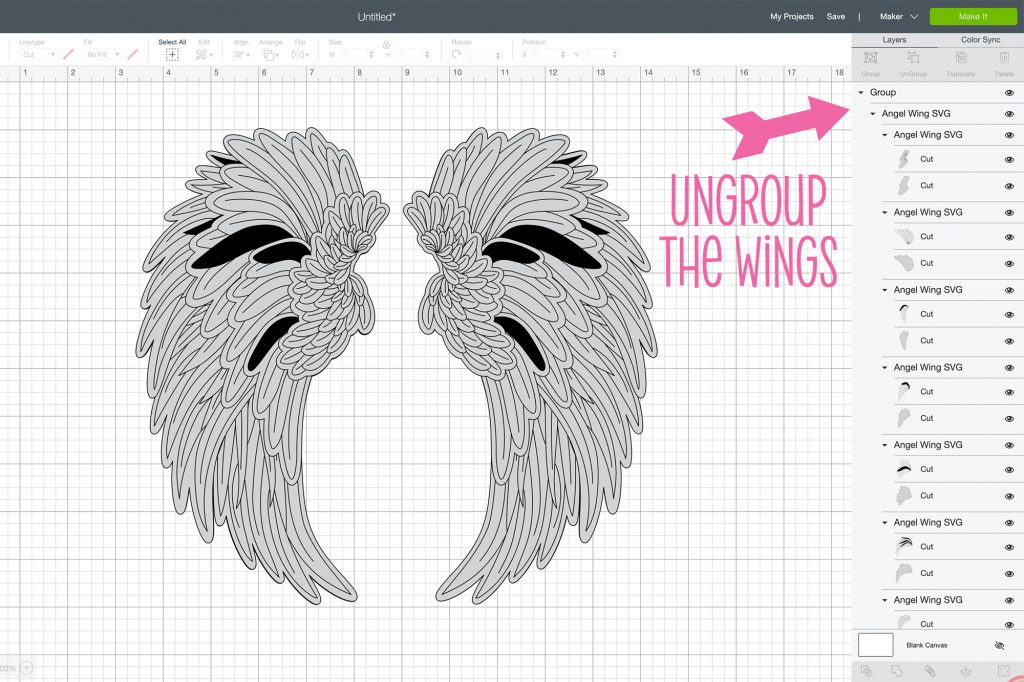 First step click Ungroup. This will separate the left and right wings.
You'll then have to select one of the wings and click ungroup once more. This separates all the pieces within the one wing.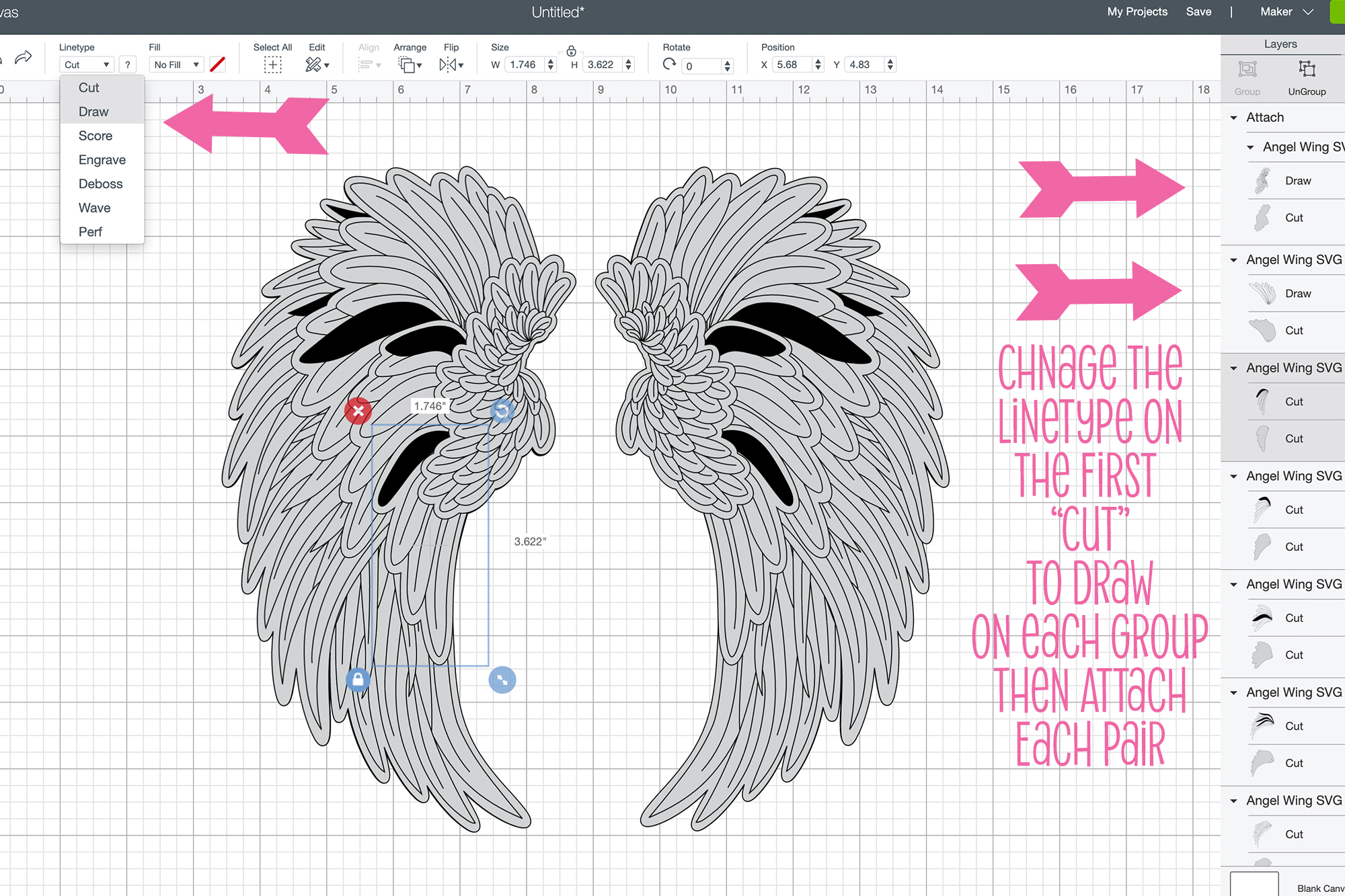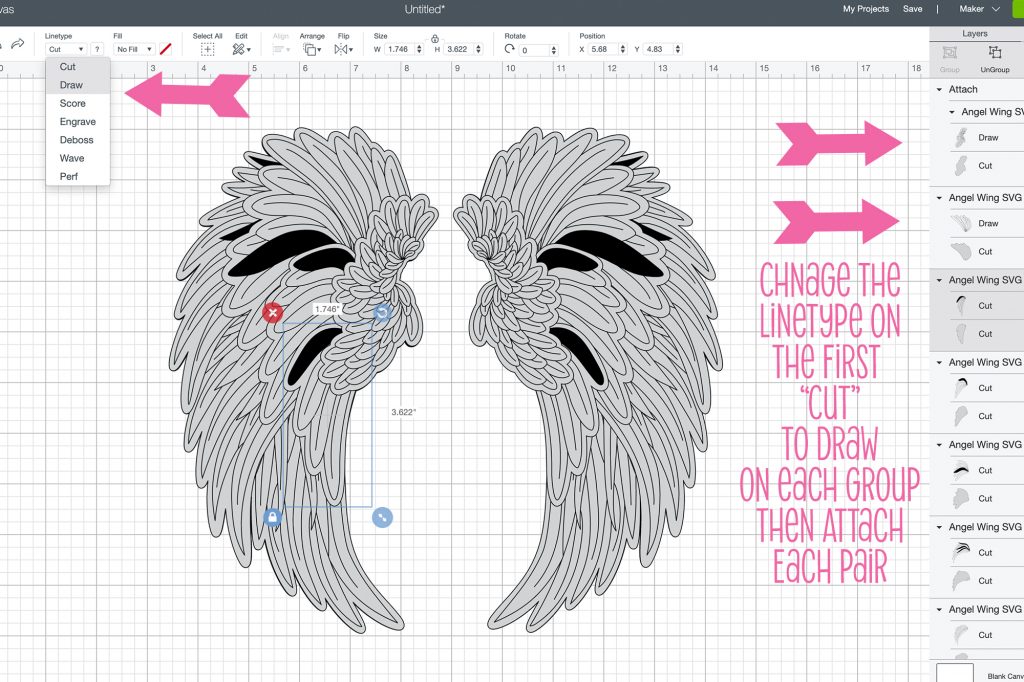 After the pieces are separated, you'll see each section in pairs. In order to get the draw lines, go down the list and change "cut" to "draw" on the top line of each section.
The last step before the design can be sent to your machine is to "attach" each section of draw and cut. For detailed instructions, please see the below video.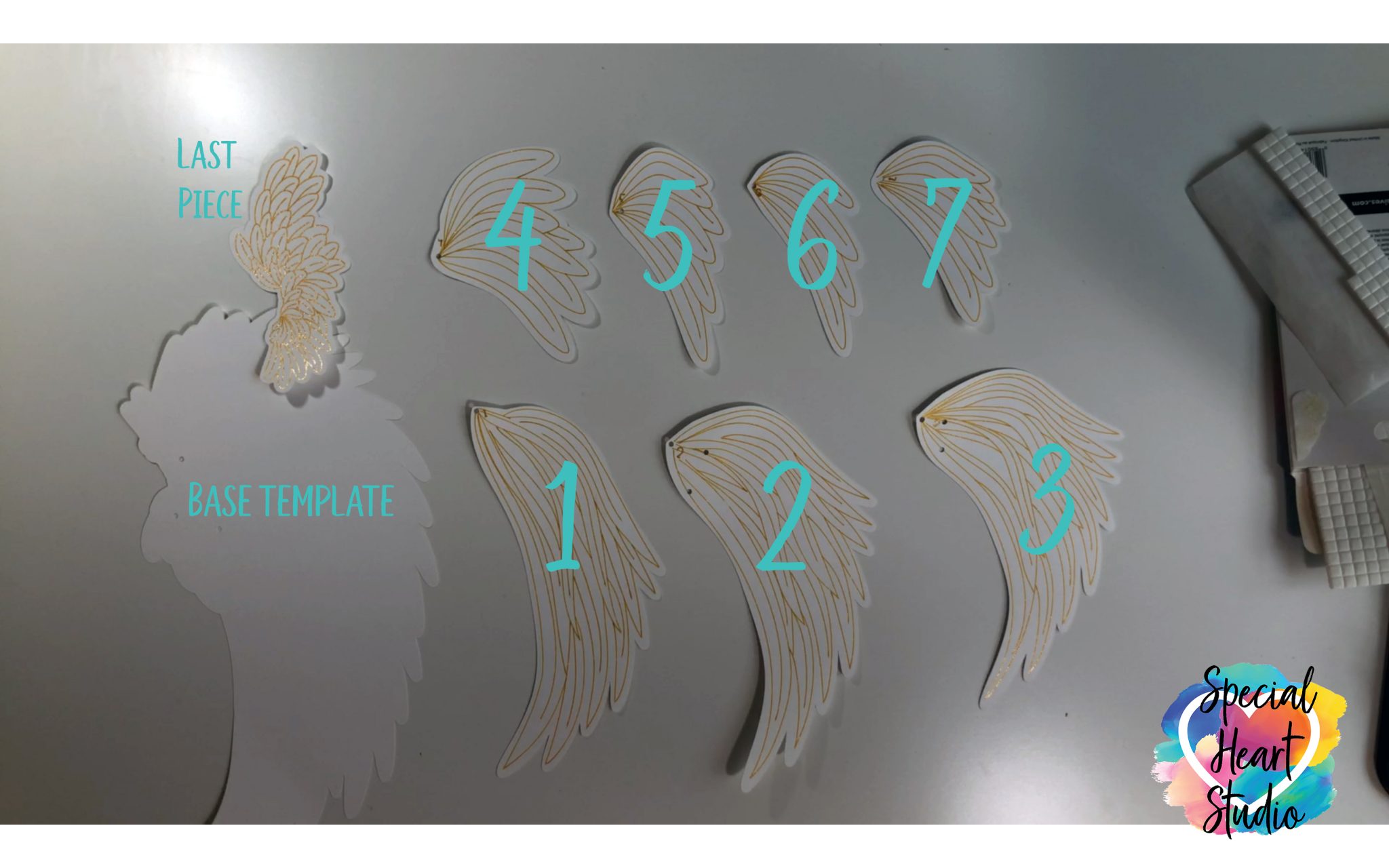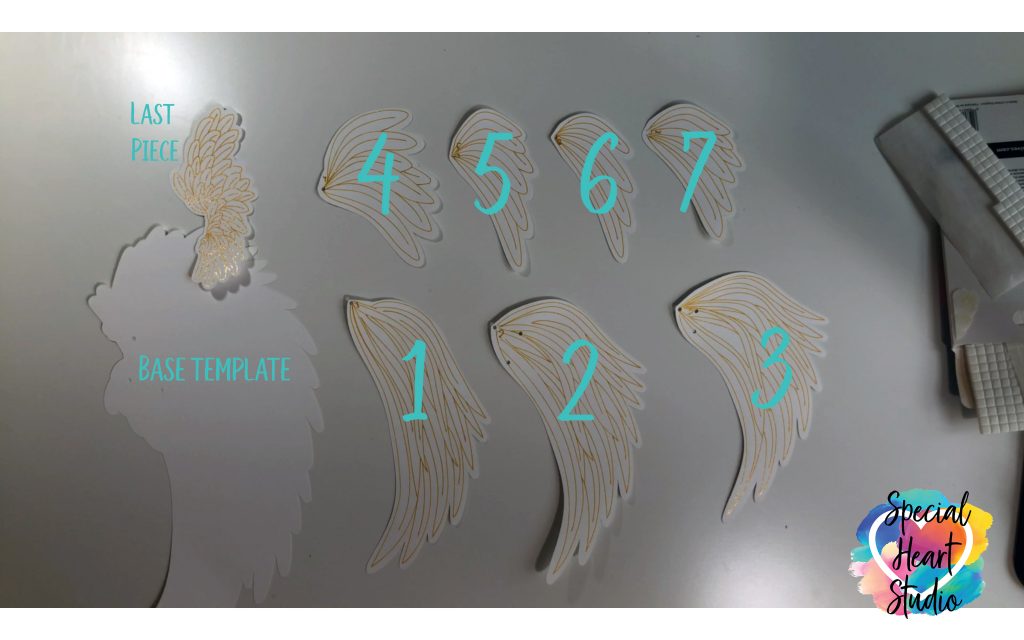 Included with the Angel Wing download is a PDF that briefly shows how to align the parts of the wings.
DETAILED VIDEO INSTRUCTION IN CRICUT DESIGN SPACE AND ASSEMBLY
PLEASE SHARE!
Please help us by sharing it before downloading the design. If you like these free designs, please take a moment to share on your favorite social media or pin it on Pinterest. That helps our site continue to grow so that we can continue to provide free content. Thank you! 💜
DOWNLOAD HERE
LARGE FORMAT ANGEL WING
The last download (below) is formatted for the Angel Wing to be cut on a 12″x24″ mat to make the wing large, as shown in the photo. I used a poster board on the bottom layer and butcher paper for the top layers in the pictures. Due to the size of the wing, I've only included one in the download. If you want to cut a pair, simply duplicate and flip the image vertically.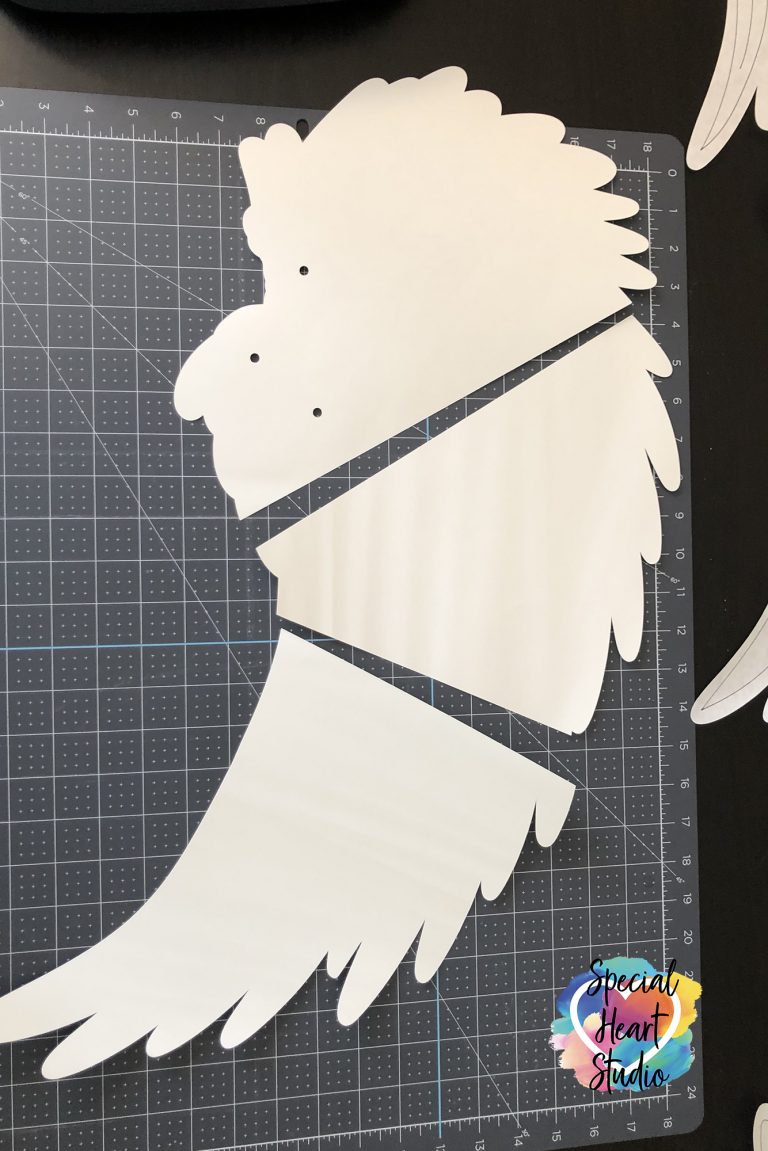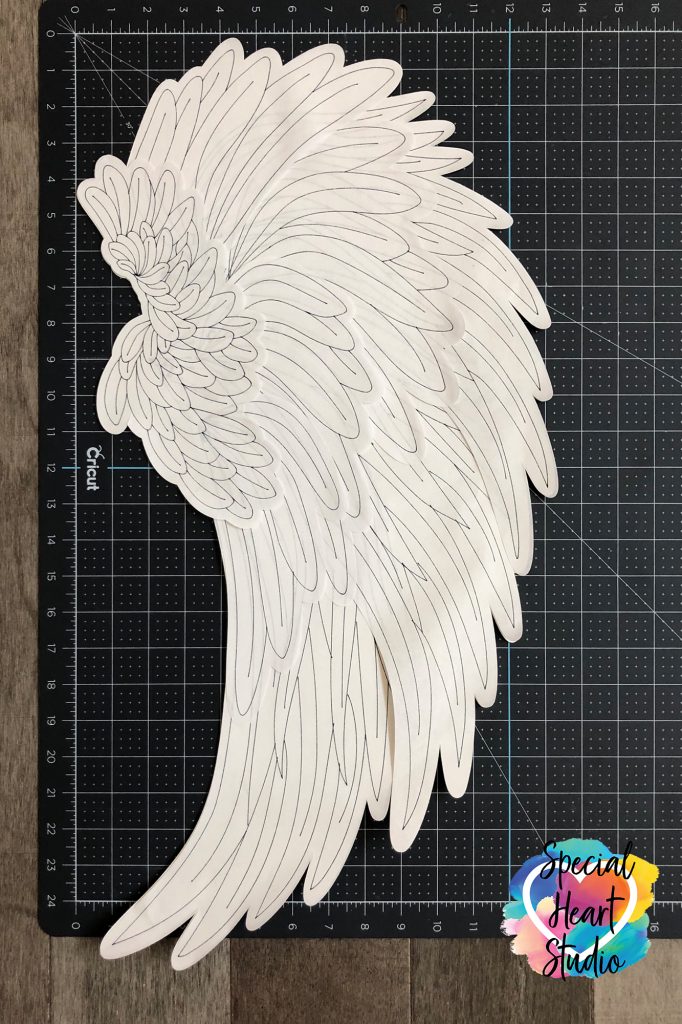 New to Cricut and need help on how to upload these designs to your Cricut machine? My How to Upload SVG Files In Cricut Design Space post will provide step by step directions how-to upload SVGs to Design Space.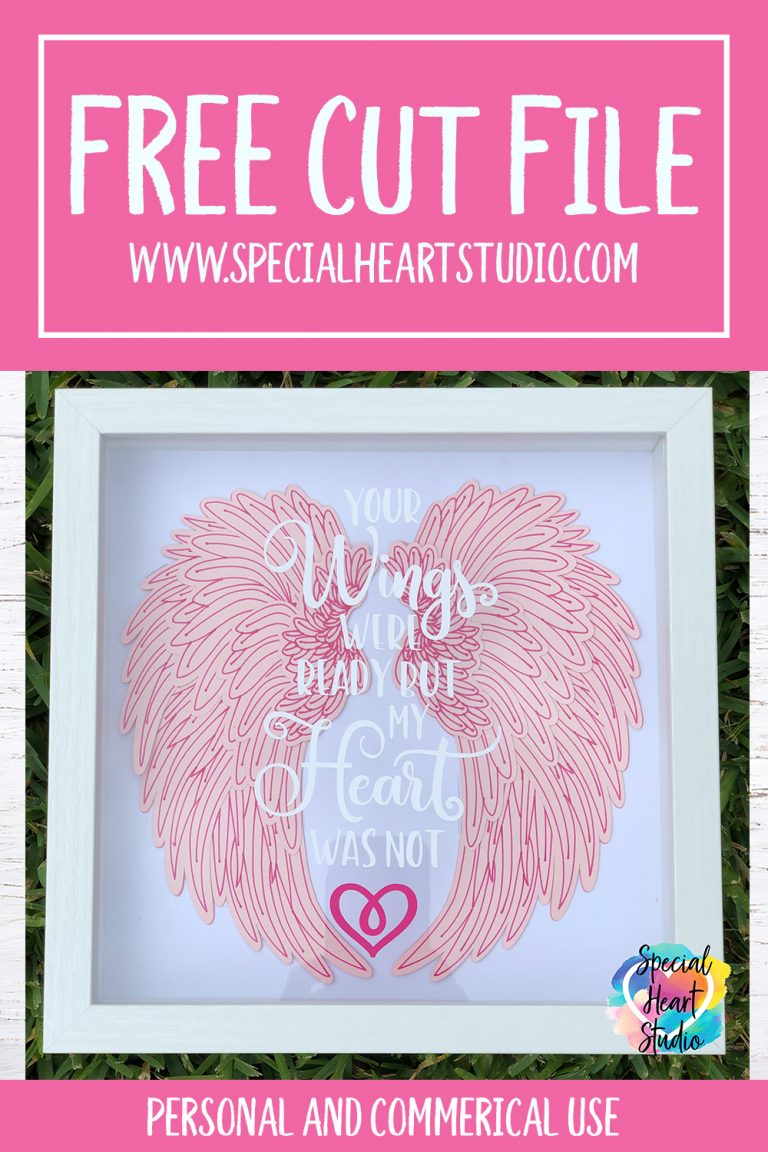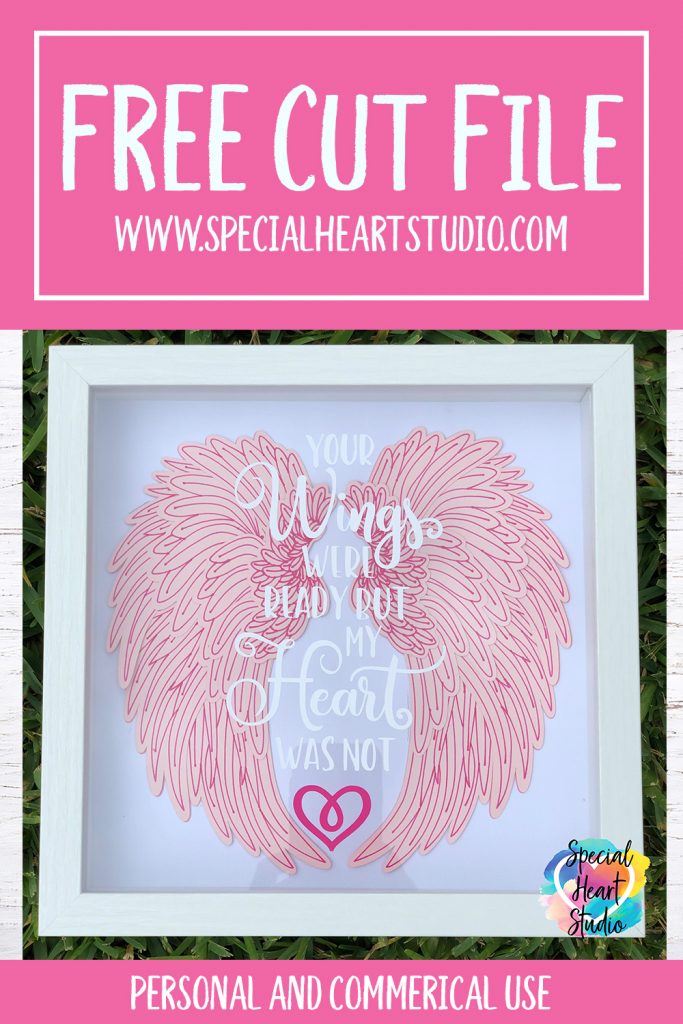 CHECK OUT MY LATEST POSTS