Layered Mandala Easter Egg
This post may contain affiliate links. Please see my Privacy Policy for full details.
Today I'm back with with another layered mandala design. Easter is coming and at my house it's time to get the decorations out, so just in time, a fun layered design.
I don't mind if you use these designs for personal or small business commercial use up to 200 items, but please do not re-sell or re-distribute the files. I'd ask that you direct your crafty friends here to download the files themselves. Also, I don't allow my designs to be used in print-on-demand shops or on transfers that will be sold. Click HERE for complete Terms of Service.
This design has file layers and although fairly intricate, I tested the design small enough to be cut on my Cricut Joy. The yellow egg pictured above was cut on the Joy at 4.25″ wide with no problems.
Isn't it amazing how one design can look so different with just one small change. Both eggs were cut the same size. Four layers are white and one pink. The egg on the left, the second layer is pink and on the right, the top layer is pink.
Materials Needed for Layered Mandala Easter Egg
Foam Tabs – These Tombow Foam Tabs on Amazon are my favorite.
Micro Foam Tabs – I've tried out a lot and the Forever In Time seem easiest to work with, BUT…they frequently sell out. Click HERE for an alternate. As of 2/27/21, I've ordered these to test. I'll update once received.
Wax Paper or Parchment Paper
Light grip mat (blue)
Cricut Maker – or your favorite cutting machine
Design #128 – Layered Mandala Easter Egg SVG – My free cut file (available in my freebie vault—get the password at the bottom of this post).
Layered Mandala Easter Egg Assembly Video
The short video above will outline how I assemble the Layered Mandala Easter Eggs. I will walk through how I align the layers with wax paper and parchment paper and place foam tabs.
Cutting and Assembling the Layered Mandala Easter Egg
I used Recollections 65lb. cardstock and cut the eggs using Medium Cardstock setting both on the small egg on my Cricut Joy and the bigger egg that was cut on a Cricut Maker.
When cutting cardstock, I always recommend rolling a brayer over the paper to ensure it's adhered to the cutting mat well.
Once the layer cuts, it's time to remove the paper from the mat. Turn the mat upside down so that your paper is on the work surface. Gently bend the mat away from the paper while holding the cardstock your work surface to prevent curling.
I cut the egg pictured at 4.25″ wide on the Joy. Because of the small size, there wasn't much room for foam tabs so I decided to glue all layers. I review the process in the assembly video posted above. Contain spray adhesive overspray by spraying the layer in a small box.
I then tried out using a piece of wax paper between the layers with a small portion of the next layer exposed. This allowed me to only attach a small portion of the egg, yet provided room to perfectly align the piece. Once in the right spot, I pressed down on the portion already exposed and then slid out the piece of wax paper.
I tested this process using both wax paper and parchment paper. I'd recommend parchment paper as it was easier to slide away from the spray adhesive.
The small yellow egg was assembled using spray adhesive for all layers. Both white and pink eggs have the top 3 layers glued with spray adhesive and the bottom two layers foam tabs. The purple egg has foam tabs for all layers except the top.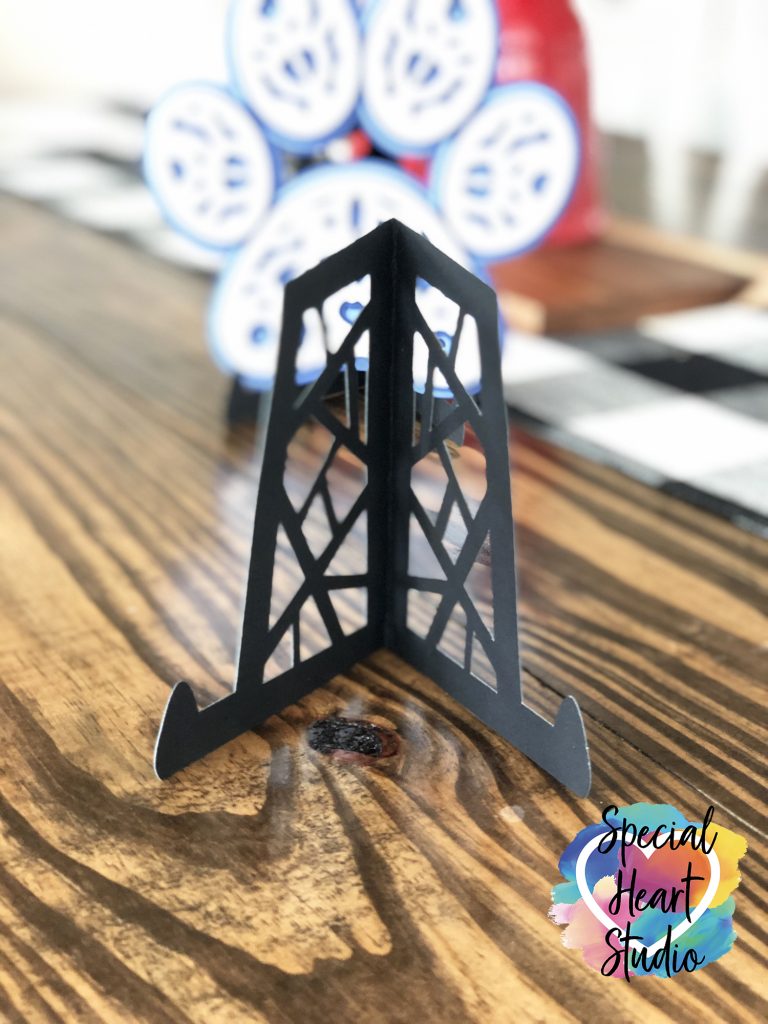 Need a way to display your Layered Easter Egg?
Download my Easel stand to display your Easter Eggs. Find the Easel Stand >>>HERE
Please Share Prior To Downloading
Please share! If you enjoy this project/design, please share it on your social media platform or your favorite Pinterest board. I greatly appreciate it!! That helps my blog continue to grow and enables me to continue to provide free designs. 💕 Thank you!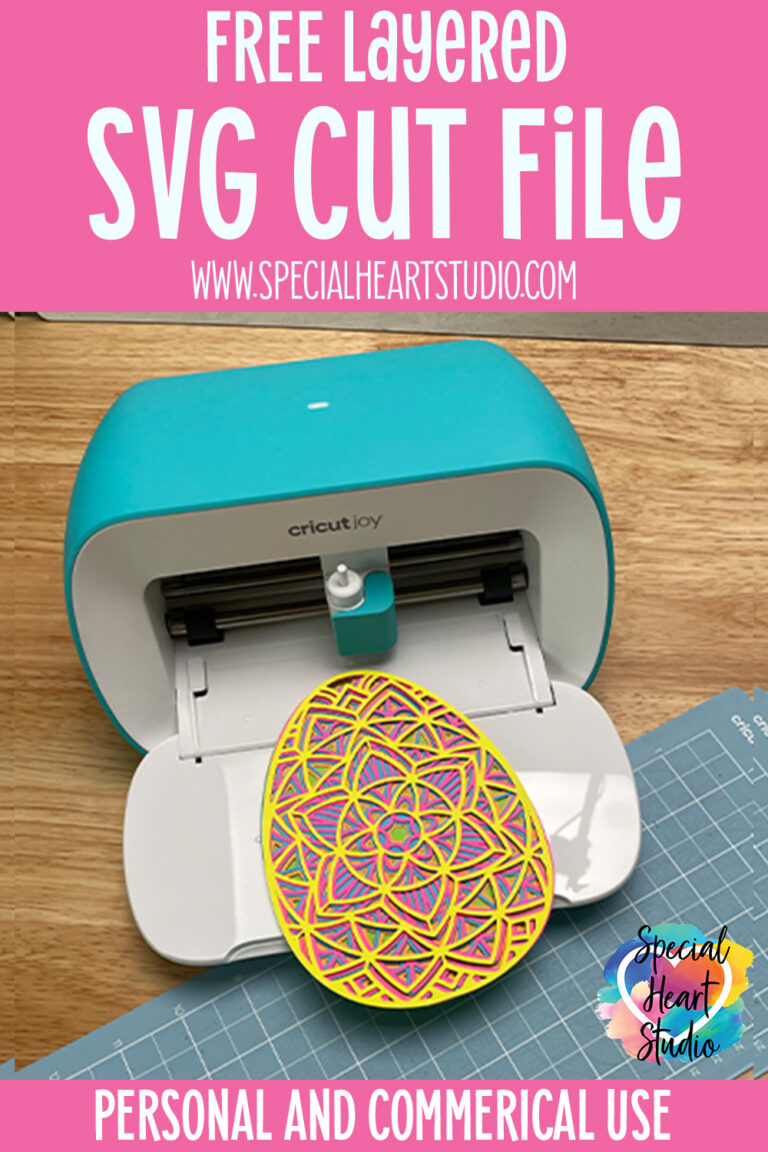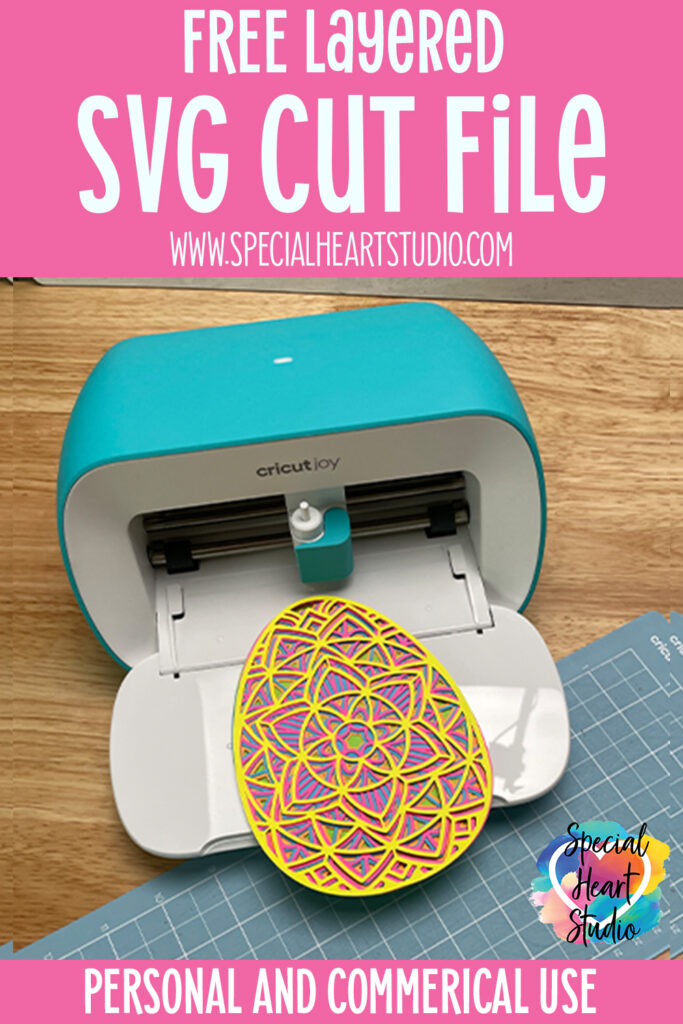 Download My FREE Layered Mandala Easter Egg Cut File By Subscribing Below To Get The Password To My Freebie Vault
DOWNLOAD the Layered Mandala Easter Egg– Design #128 by entering the password to my Freebie Vault. Click HERE to go to the freebie vault, my library of free downloads. To sign up for a password to my free designs, enter your name and email address below. ⬇️