LAYERED SNOWFLAKE CHRISTMAS ORNAMENTS – FREE SVG CUT FILES
This post may contain affiliate links. Please see my Privacy Policy for full details.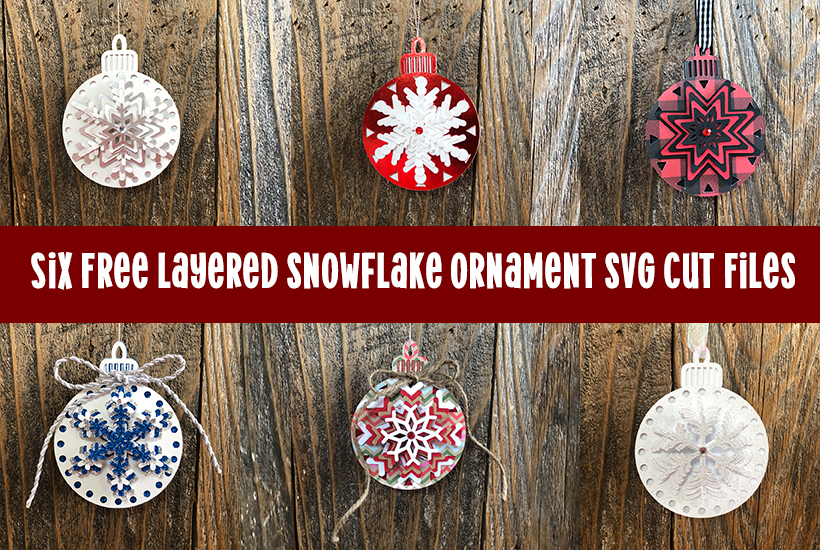 Ready or not, Christmas will be here before we know it. Do you decorate your Christmas tree with handmade ornaments? Is your tree perfectly coordinated with a theme? My tree has always been a hodgepodge of ornaments collected over the years with special memories.
This year, I plan to add another tree and decorate it with these fun layered ornaments with my favorite papers.
HOW TO MAKE LAYERED CARDSTOCK ORNAMENTS
These pretty ornaments are easy to make and don't require a lot of materials. They can be cut from just a page or two of paper and look great with plain paper or patterned papers as shown in some of the photos.
Ornament #1 – Made with white and silver foil card stock. To add a bit of bling to the ornament, I added a silver gem sticker to the middle of the snowflake on both sides.
Ornament #2 – Cut from White and red foil card stock. To add to the ornament, a red gem sticker was placed in the middle of the snowflake.
Ornament #3 – As I was looking to show the different ways the ornaments could appear with different papers, I found a piece of buffalo plaid card stock in my stash. So on this ornament, I used red and black card stock and turned the snowflake a bit to match the lines of the buffalo plaid. I also added a red jewel sticker as embellishment then tied with a plaid ribbon.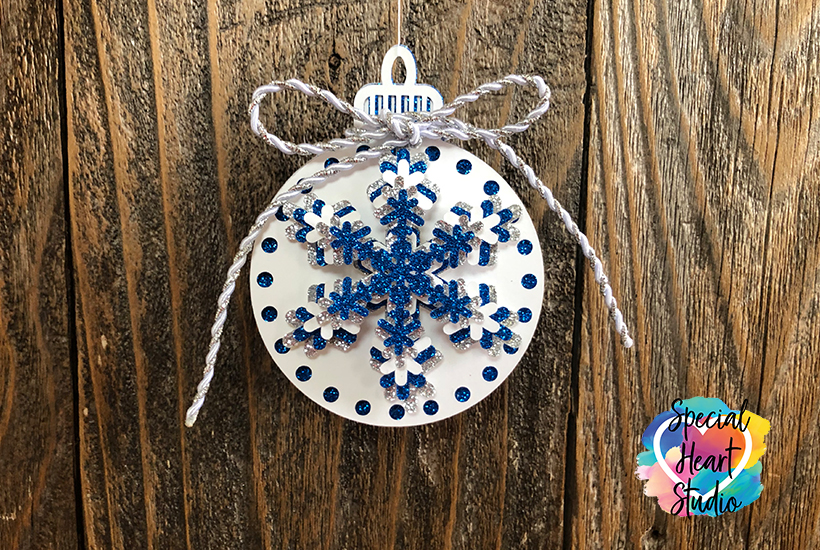 Ornament #4 – I love glitter. I can't wait to see this one sparkle with the white lights that I enjoy on my tree. The ornament was cut with white, silver glitter, and blue glitter card stock.
Ornament #5 – How cute this ornament turned out is difficult to capture in photos. It's truly my favorite. This one was cut with a brown card stock that had a colorful zig-zag pattern. I then added the snowflake in white, red, and brown card stock topped with a red jewel sticker and a twine bow.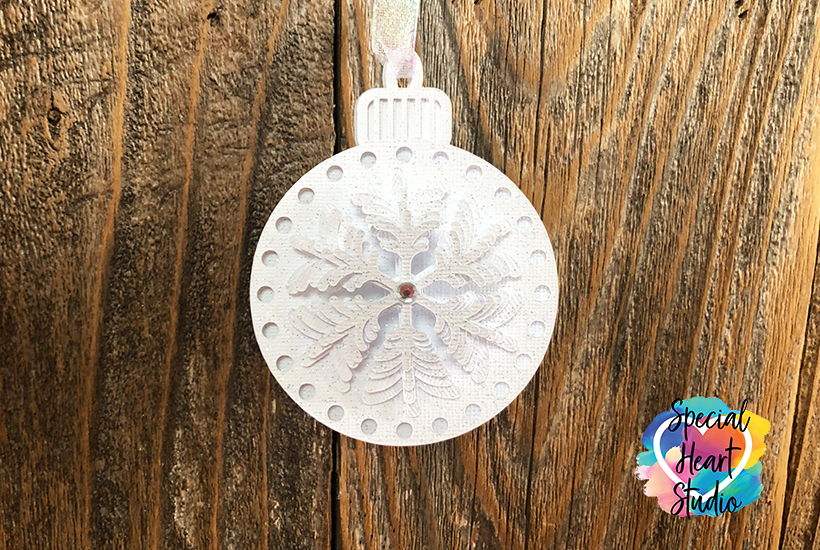 Ornament #6 – For the last ornament, I wanted to try one color. This one is also difficult to see the beauty in photos, but it's a white card stock with tiny flakes of silver glitter. Topped it off with a silver jewel sticker and a white holographic ribbon.
MATERIALS TO MAKE LAYERED SNOWFLAKE ORNAMENTS
65 lb Cardstock – I used Recollections Brand Cardstock from Michaels.
Micro Foam Tabs – These micro-foam tabs are perfect for the thin lines on the top layer of the cat.
Foam tabs – These foam tabs from Tombow are my absolute favorite. They're thick enough to provide a good dimension to each project. The description is a bit deceiving as it states 50 tabs. In fact, there are 464 in the package, 50 large and 414 small sizes.
Light grip mat (blue light grip)
Cricut Maker – or your favorite cutting machine.
Optional – fun embellishments and ribbon to customize your ornament
Design #93 – My free SVG cut file (available in my freebie vault—get the password at the bottom of this post).
The above photo shows a breakout of all the layers. I saved each SVG file in a similar color scheme to how I cut and photographed these designs in order to keep things simple (I hope).
When assembling each ornament, I started in the middle. Using the middle round piece, I attached the next outer ornament shape using glue. This creates a sturdy base for the remaining pieces. I then used foam tabs on the remaining layers including the outside ornament round pieces.
To add dimension to the snowflakes, a combination of Tombow Foam Tabs and Micro-Foam Tabs were used.
I hope you enjoy making these fun, yet easy ornaments. I'd love to see photos of your creations.
PLEASE SHARE PRIOR TO DOWNLOADING
Please share! If you enjoy this project/design, please share it on your social media platform or your favorite Pinterest board. I greatly appreciate it!! That helps my blog continue to grow and enables me to continue to provide free designs. 💕 Thank you!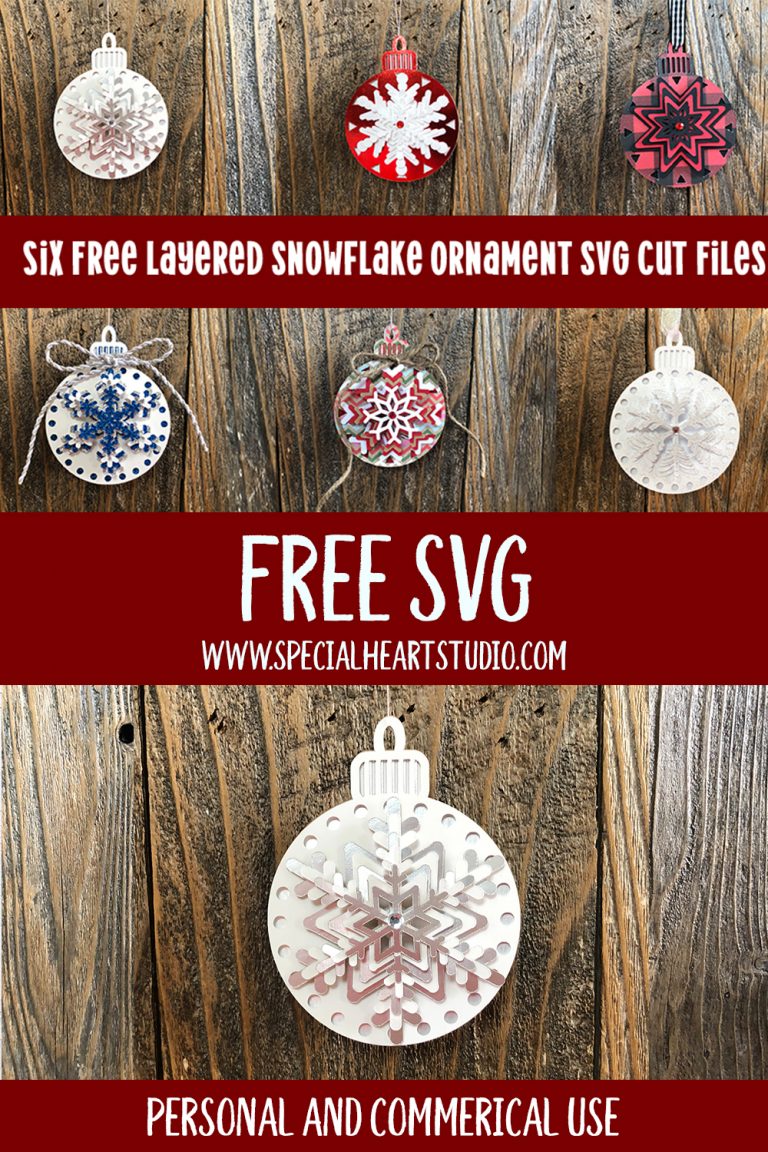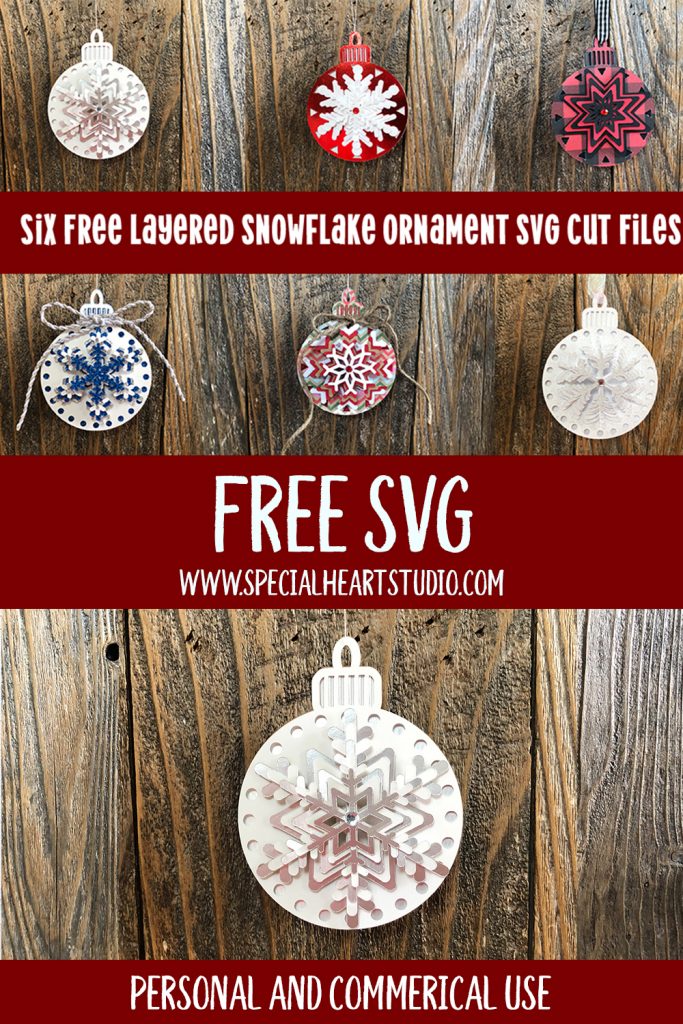 DOWNLOAD MY LAYERED CANDY CANE CUT FILE BY SUBSCRIBING (FREE) BELOW TO GET THE PASSWORD TO MY FREEBIE VAULT
New to Design Space and looking for help with how to upload? Click HERE to find directions to get started.
LOOKING FOR MORE FREE DESIGNS?