BOX FRAME FOR SHADOW BOX AND FREE LAYERED MANDALA
This post may contain affiliate links. Please see my Privacy Policy for full details.
FREE SHADOW BOX FRAME AND LAYERED MANDALA CUT FILES
Yesterday I posted a layered graduation shadow box design, and one of our Facebook group members mentioned that she'd been having trouble getting her hands on the shadow box frames. Right then, I decided that I could throw together a template for a frame or box made with paper. While putting the assembly instructions and video together, I couldn't leave the frame empty, so threw in a new layered mandala. Find step by step directions below. Enjoy!
MATERIALS NEEDED FOR BOX AND MANDALA
65 lb Cardstock – On the pink mandala in the photos I used Recollections Brand Cardstock Pink
Kraft Board -I used Cricut's Kraft board for the shadow box frame with the mandala.
Foam tabs – These foam tabs from Tombow are my absolute favorite. They're thick enough to provide a good dimension to each project. The description is a bit deceiving as it states 50 tabs. In fact, there are 464 in the package, 50 large and 414 small sizes.
Glue or tape runner
Scoring Stylus or Scoring Wheel (for Cricut Maker users)
Light grip mat (blue light grip)
Cricut Maker – or your favorite cutting machine.
Design #54 Shadow Box Frames and Mandala #3 – My free SVG cut files (available in my freebie vault—get the password at the bottom of this post).

HOW TO ASSEMBLE THE SHADOW BOX FRAME
I have included three different sizes in the Shadow Box Frame download. They are labeled 7.5 inches, 8.5 inches, and 9 inches. The file name refers to the size of the frame and the finished surface. If you need to re-size the project, I recommend leaving all three layers grouped so they will stay in line.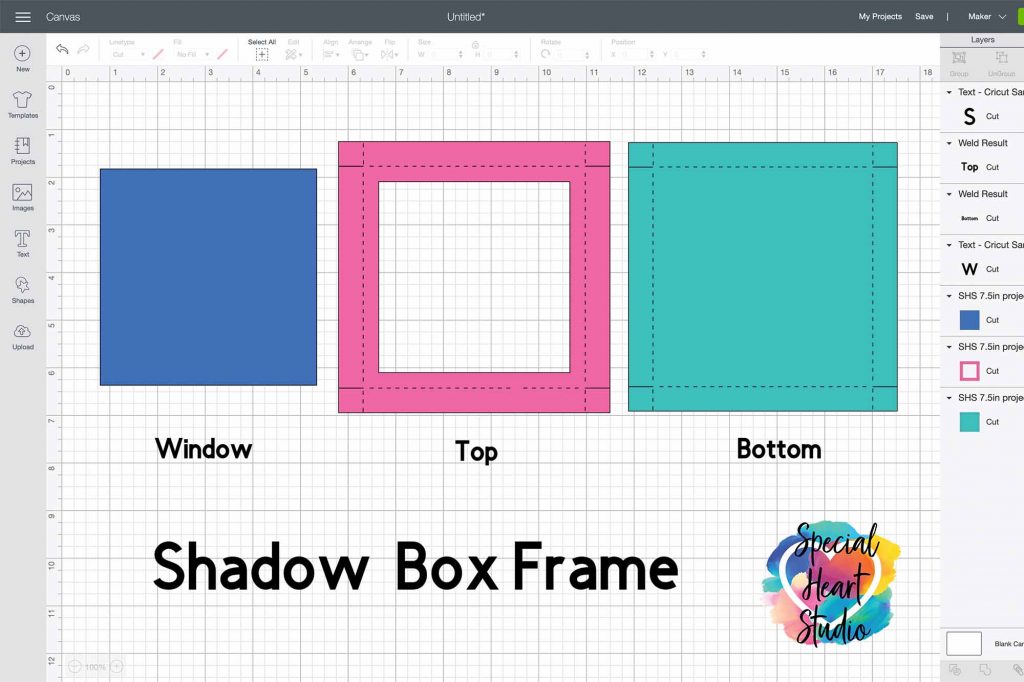 The blue square box will be hidden when the design is uploaded. I included the blue square shape to use if you'd like to add an acetate window to the top of the box. The acetate could be glued to the inside of the box top.
Once you've cut the box frame, start by removing the paper from the mat. When working with card stock or kraft board, I always recommend putting the paper down on your work surface with the mat side up. Then slowly and gently bend the mat while holding the paper flat against your desk.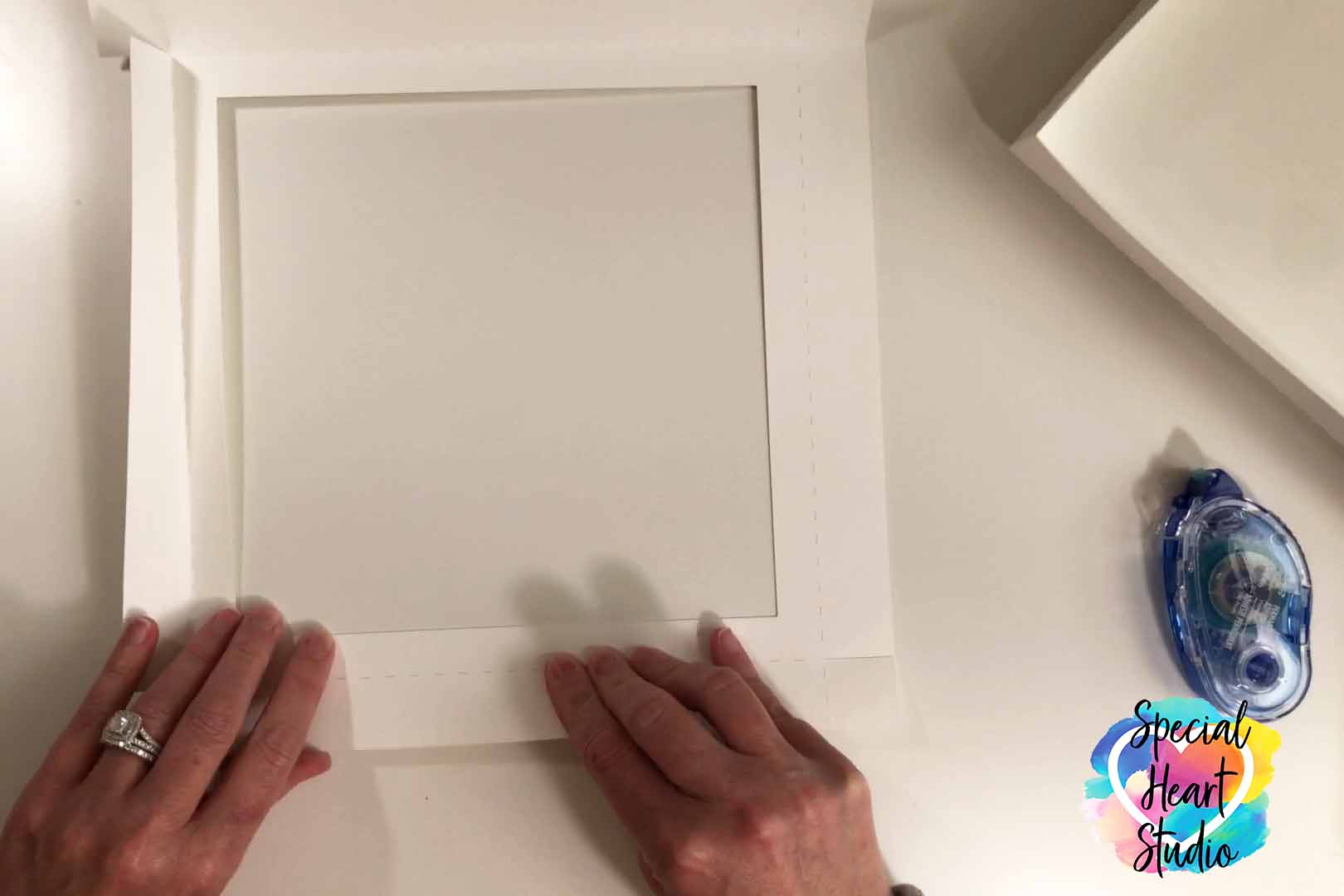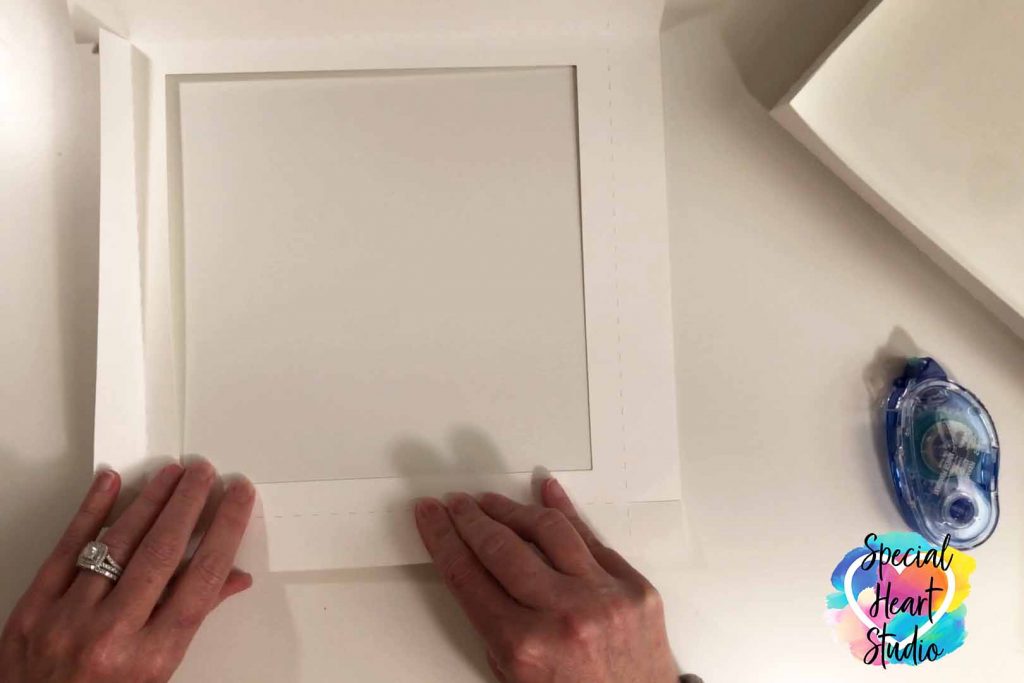 The box frame was designed with a perforated edge to assist in folding the box into shape. Gently fold along the dashed cut lines to start forming your box.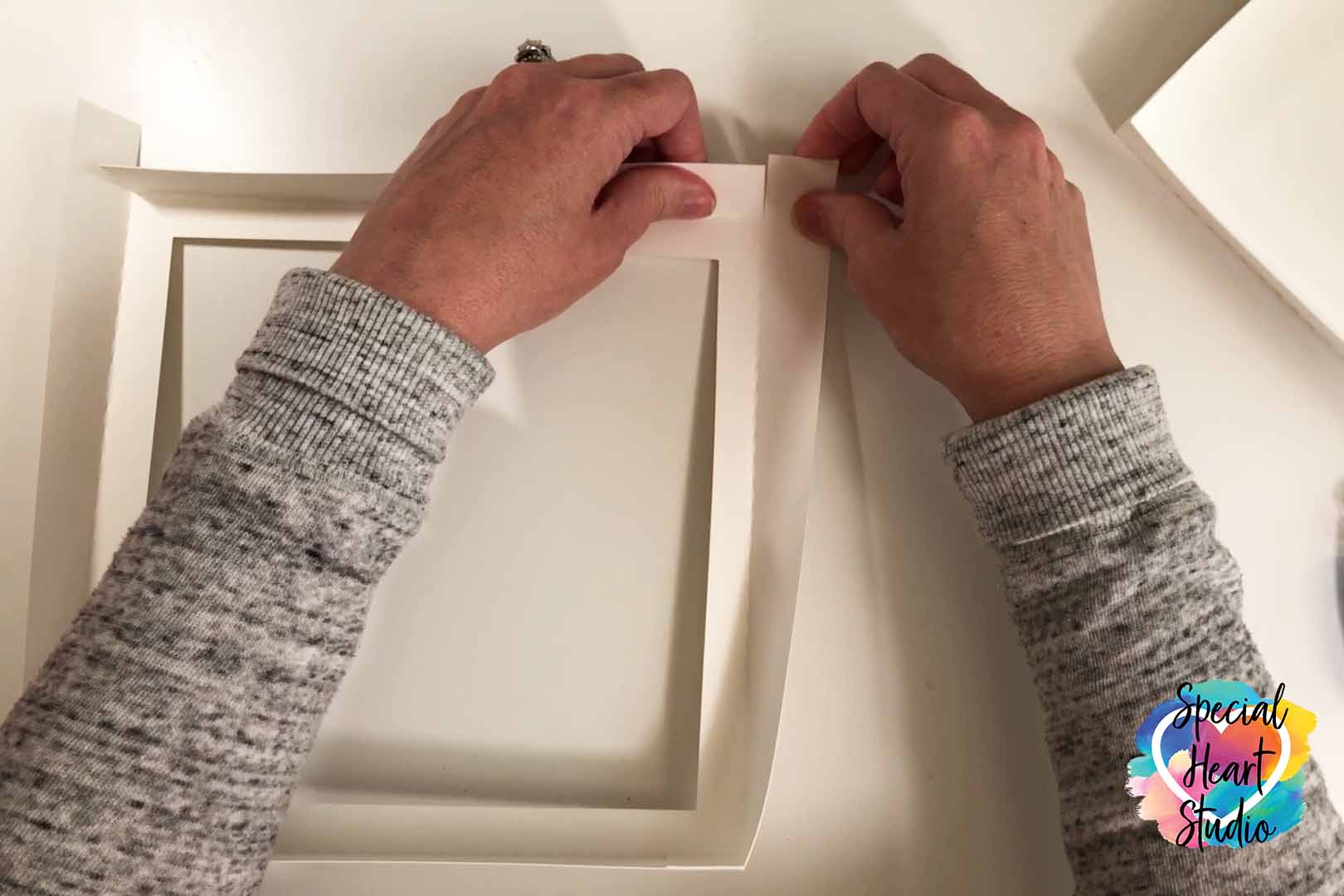 Fold the small tabs in a 90-degree angle and tape or glue to the inside of the box frame. Once you have assembled both the top lid and bottom, gently shape each piece to make the box square.
That's it, an easy framed card stock shadow box. If you'd like instructions how to layer the mandala, please refer to this post.
HOW TO ASSEMBLE SHADOW BOX
UPDATED (OCT 2020) TO INCLUDE TWO SHADOW BOX FRAMES
I've updated the download to include two different formats. The original format as shown in the video utilizes a perforated cut line for those who do not have a scoring stylus or scoring wheel.
In my updated version, you'll find two folders for the Shadow Box Frame. The new version includes score lines attached and ready for you to "Make It"! The blue square included in both formats is for those who may want to add an acetate window to their frame. If you don't need it for your project, feel free to delete or hide before cutting.
PLEASE SHARE!
Please share! If you enjoy this project/design, please share it on your social media platform or your favorite Pinterest board. I greatly appreciate it!! That helps my blog continue to grow and enables me to continue to provide free designs. 💕 Thank you!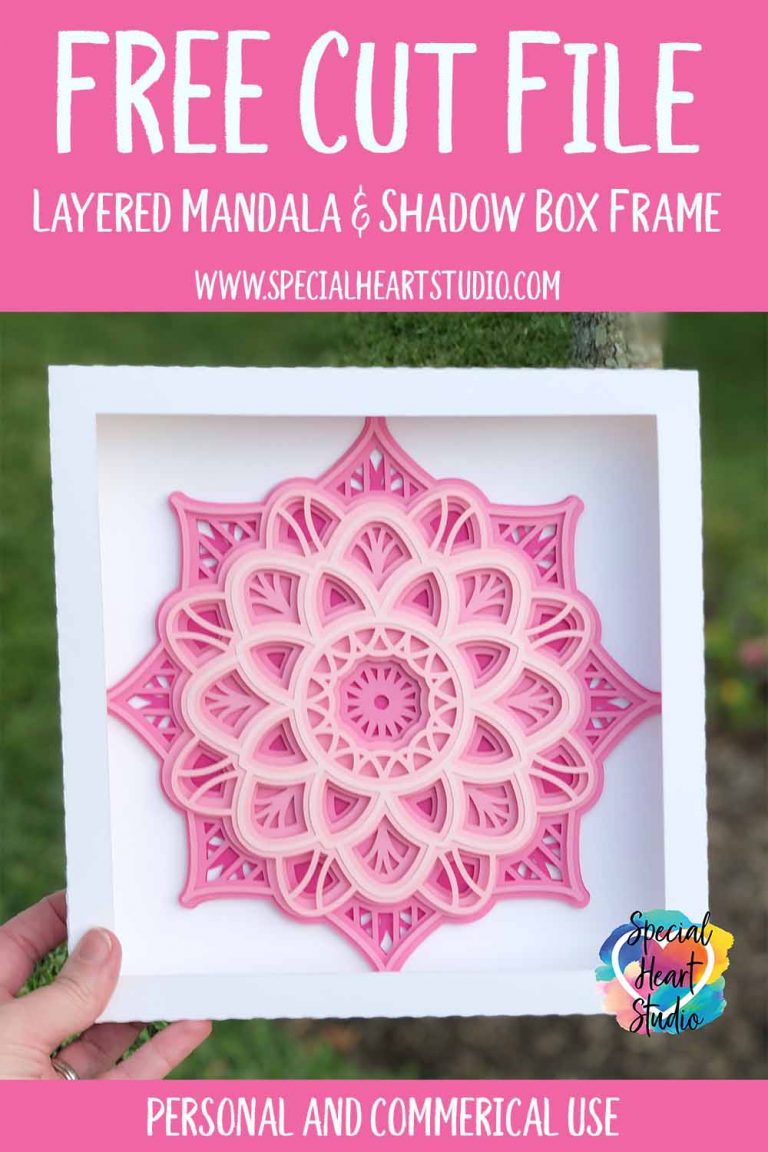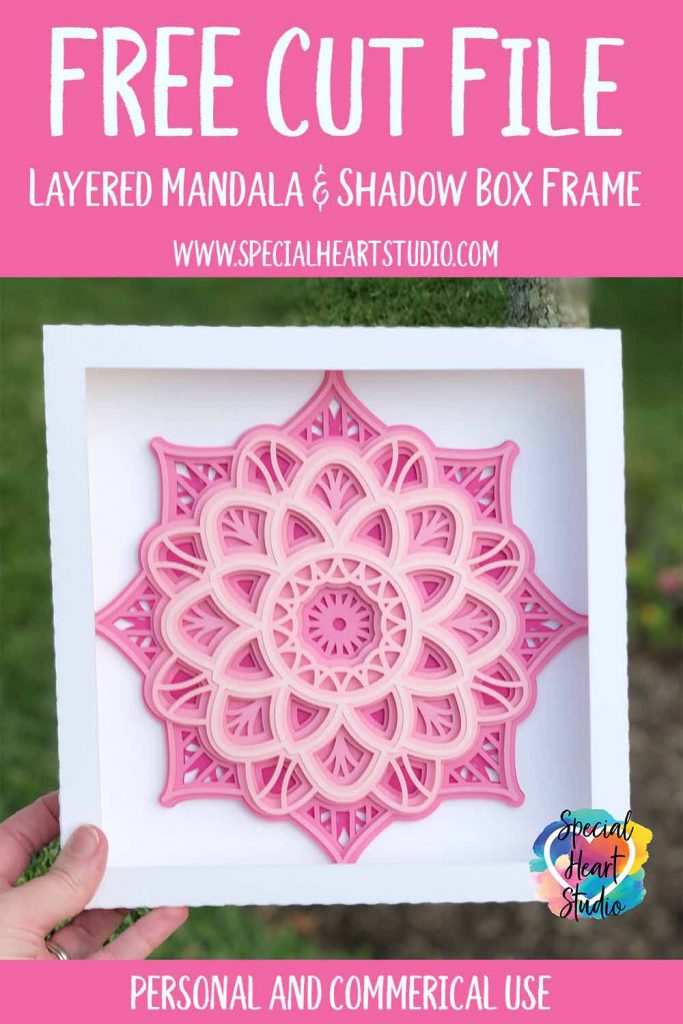 DOWNLOAD THE SHADOW BOXE DESIGNS AND LAYERED MANDALA CUT FILE BY SUBSCRIBING (FREE) BELOW TO GET THE PASSWORD TO MY FREEBIE VAULT
New to Design Space and looking for help with how to upload? Click HERE to find directions to get started.
LOOKING FOR MORE DESIGNS? CHECK OUT SOME OF MY RECENT POSTS