How To Make a Layered Unicorn Shadow Box
This post may contain affiliate links. Please see my Privacy Policy for full details.
Unicorns! The magical, mystical creature that is full of wonder. Always a popular decoration for little ones, this design is perfect for anyone who loves unicorns.
This post will walk you through the steps of how to create this quick and easy shadow box using my free Layered Unicorn SVG Cut File.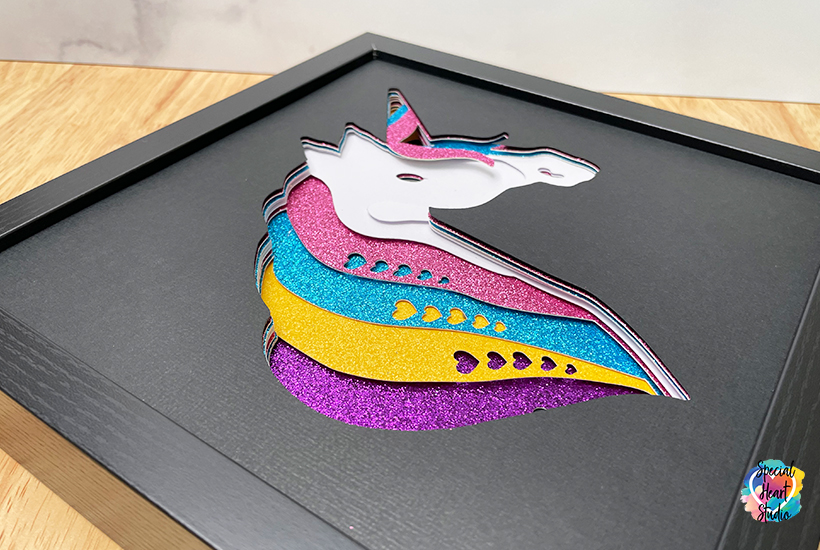 The project is perfect for beginners or even to do with kids. There are ten layers to the shadowbox.
Materials For A Layered Unicorn Shadow Box
Shadow Box – I used a 9″x9″ frame. Alternatively, I have designs a Shadow Box SVG that could be used. Find that post HERE.
Light grip mat (blue) for plain cardstock
Standard grip mat (green) for glitter cardstock
Cricut Maker – or your favorite cutting machine
Design #133 – Layered Unicorn SVG – The free cut file (available in my freebie vault—get the password at the bottom of this post).
How To Make A Layered Unicorn Shadow Box
Download the free Layered Baby Feet Mandala from the Freebie Vault and unzip the folder. Then upload the SVG to Design Space.
If you're new to working with your Cricut machine and need help how to upload, click HERE.
Once uploaded, decide the size to cut your project. First, I removed the inner frame as I didn't need it for this project. Then measure the inside of your frame. Sometimes the measurement is not the same as the frame size.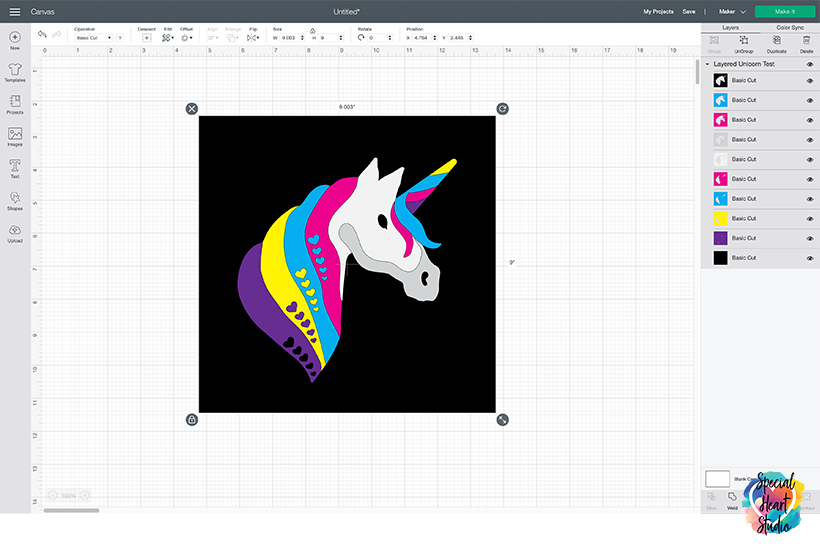 The inside of my frame was 9″x9″, so I cut the project as saved. I recommend resizing all layers at the same time if you need to alter the size.
From here, I was ready to "Make It." I cut my Layered Unicorn using a combination of the Medium cardstock setting and Glitter cardstock setting.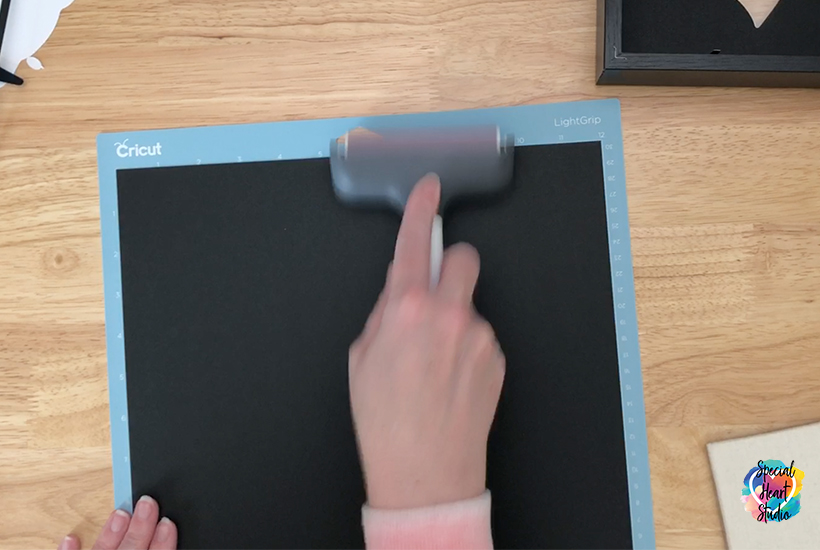 When working with paper, using a brayer will securely adhere the paper to the mat and reduce tearing.
Once cut, remove the mat from the paper. I suggest turning the mat upside down on the work surface and gently bending it away from the paper while holding it flat. This helps reduce curling.
For this project, I tried using foam tape. I found this double-sided foam tape on Amazon. Because the project doesn't have intricate cuts or spaces, it is more cost-effective than my usually foam tabs.
Using the foam tape, I placed pieces around each layer's backside, focusing on the corners and evenly spaced around each layer.
Start with the bottom layer and work up to the top.
The small unicorn pictured above was cut at six inches. I glued the layers of the small unicorn and placed in on my free easel stand. Find the easel stand HERE. If using the easel stand, set the measurement to a couple of inches less than the Layered Unicorn.
Please Share Prior To Downloading
Please help us by sharing it before downloading the design. If you like these free designs, please take a moment to share on your favorite social media or pin it on Pinterest. That helps our site continue to grow so that we can continue to provide free content. Thank you! 💜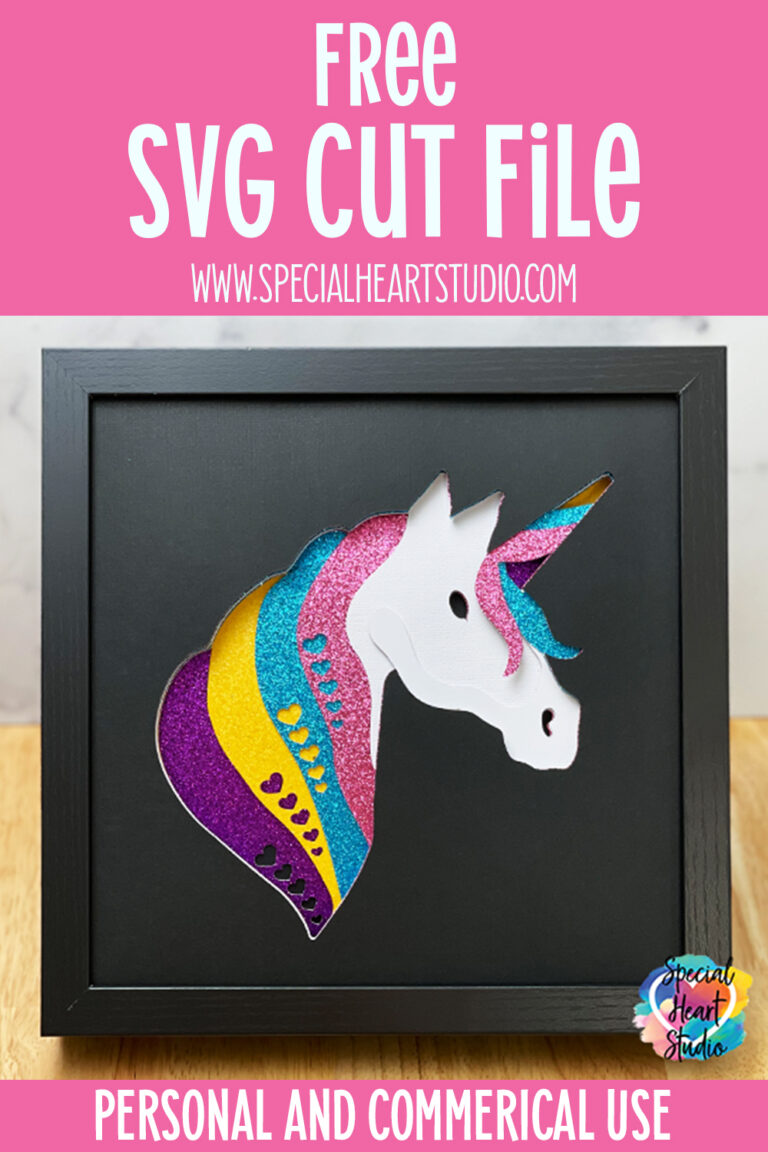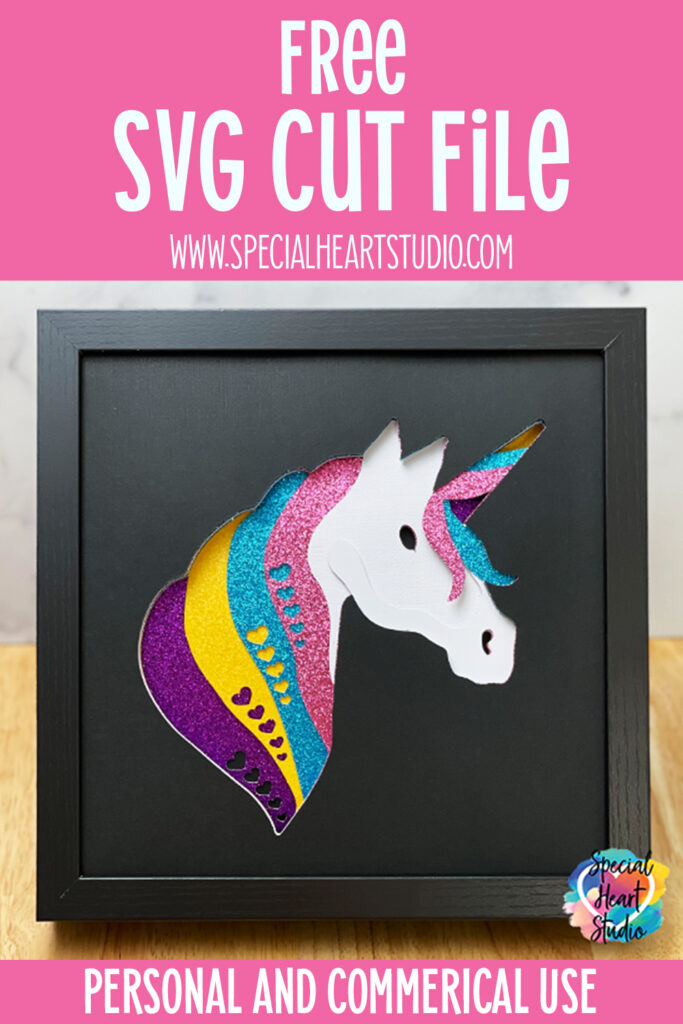 Download My FREE Layered Unicorn SVG Cut File By Subscribing Below To Get The Password To My Freebie Vault
DOWNLOAD the Layered Unicorn SVG – Design #133 by entering the password to my Freebie Vault. Click HERE to go to the freebie vault, my library of free downloads. To sign up for a password to my free designs, enter your name and email address below. ⬇️