LAYERED GRADUATION SHADOW BOX FREE CUT FILE
This post may contain affiliate links. Please see my Privacy Policy for full details.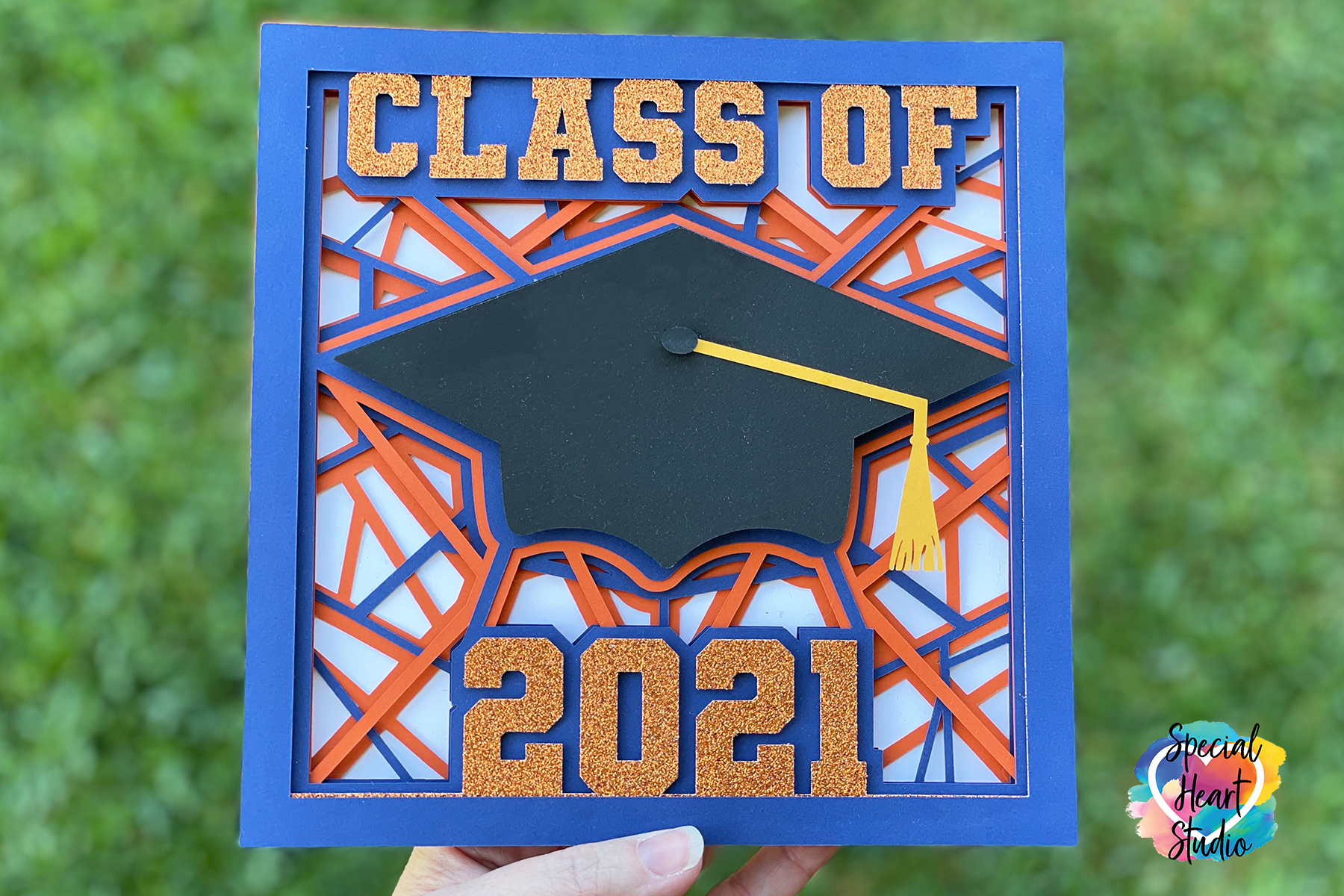 The graduation season is upon us. It may look and feel a bit different this year in parts of the country due to quarantine, but it's still a massive accomplishment for the graduates and deserves celebration. In my Facebook group, I had a request for a graduation cap mandala. Well, this can't be called a mandala, but I did come up with a fun layered Class of 2020 design that is perfect for a shadow box.
UPDATE: After multiple requests to add more years to the design, we're now up to the Class of 2033. Yikes, that sure makes me feel old but will get everyone that is now Pre-K and up covered. 😊
I don't mind if you use these designs for personal or small business commercial use up to 200 items, but please do not re-sell or re-distribute the files. I'd ask that you direct your crafty friends here to download the files themselves. Also, I don't allow my designs to be used in print-on-demand shops or on transfers that will be sold. Click HERE for complete Terms of Service.
HOW TO MAKE A LAYERED GRADUATION SHADOW BOX
Although the end project looks complicated, it's relatively simple. Follow the below-outlined steps and video to see how I assembled the shadowbox.
MATERIALS NEEDED FOR LAYERED GRADUATION SHADOW BOX
65lb. Cardstock – I prefer the Recollections brand.
Foam Tabs – These are my favorite. I've found they provide more depth between the layers. Also note, the Amazon photo shows the package includes 50 tabs. It's really 464. There are 50 large pieces, and 414 small sizes.
Square Shadow Box – For this project (pictured). I used an 8-inch square shadow box for the blue frame and a 9-inch square shadow box for the red project. Both frames I purchased from Michael's.
Light Grip Mat (blue)
Cricut Maker – or cutting machine of your choice
Design #53 – Layered Graduation Shadow Box SVG – My free SVG cut file (available in my freebie vault—get the password at the bottom of this post).
DETERMINE THE CUT AND PAPER SIZE
To get started, you'll need to measure the inside dimensions of your frame. For the pictured shadow boxes, I cut the blue design at 7.53 inches to fit the 8-inch shadow box. If using an 8-inch shadow box, you will be able to use 8.5×11″ paper.
For the 9-inch (red) shadow box, I set the project to cut at 8.53 inches. This project required the use of 12×12″ square paper.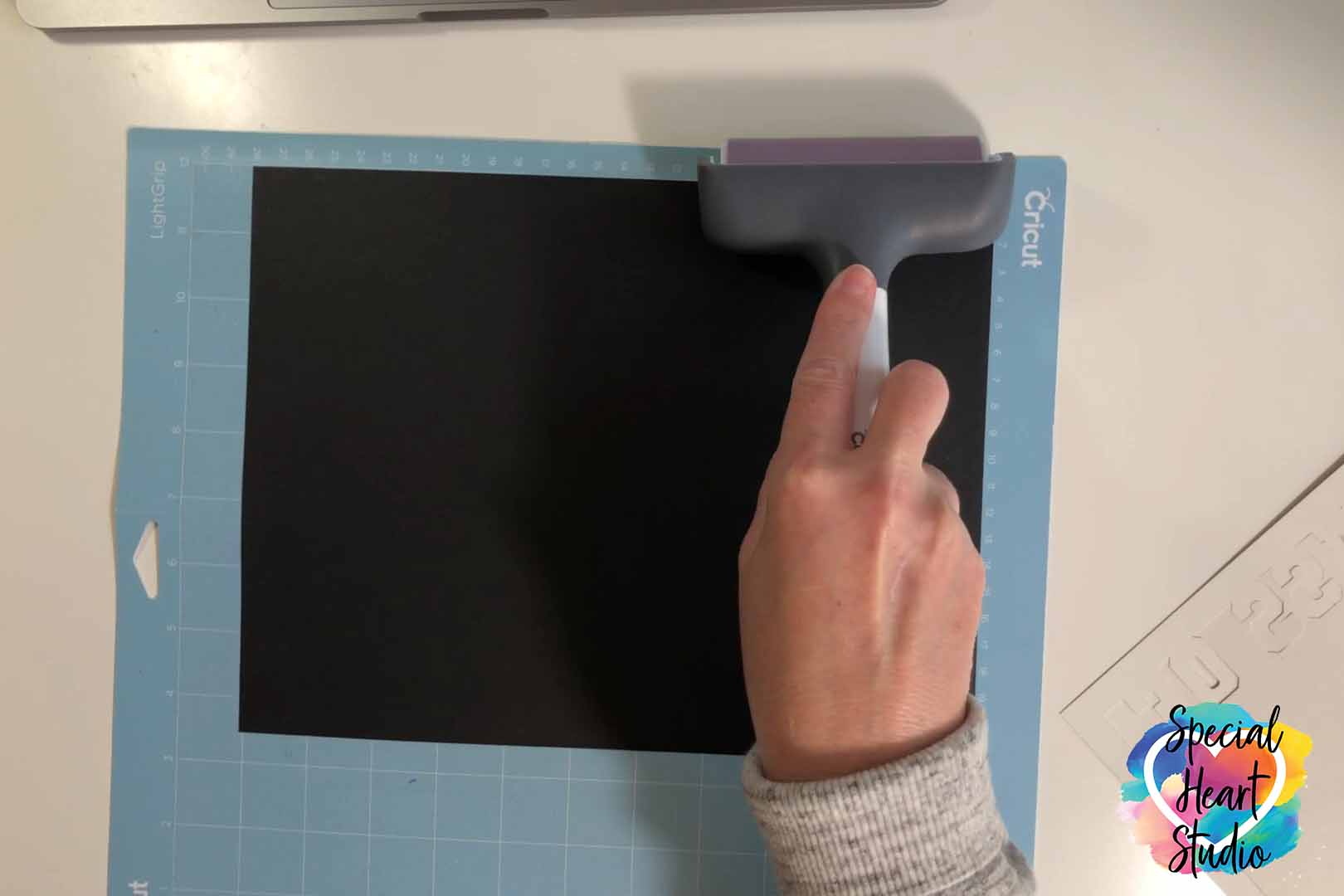 Using a brayer when placing the card stock on will help keep the paper from ripping and also keeps oils from your hands being transferred to the material. I skipped this step when I first started working with my machine, not realizing that it does help. Cut all of the layers and set aside. Note: there will be two graduation caps.
REMOVE MAT FROM PAPER
One of the questions I most often receive from people on paper projects is how to get the paper off the mat without tearing it. I've found the most success by laying the mat upside down on my desk and slowly bending the cutting mat away from the paper. I frequently use my hand or a ruler to hold the paper in place.
Once all the cuts are complete and removed from the mat, you're ready to start assembly. I started by adhering the two mortarboards together using Zots. Foam tabs would also work to provide height to the project.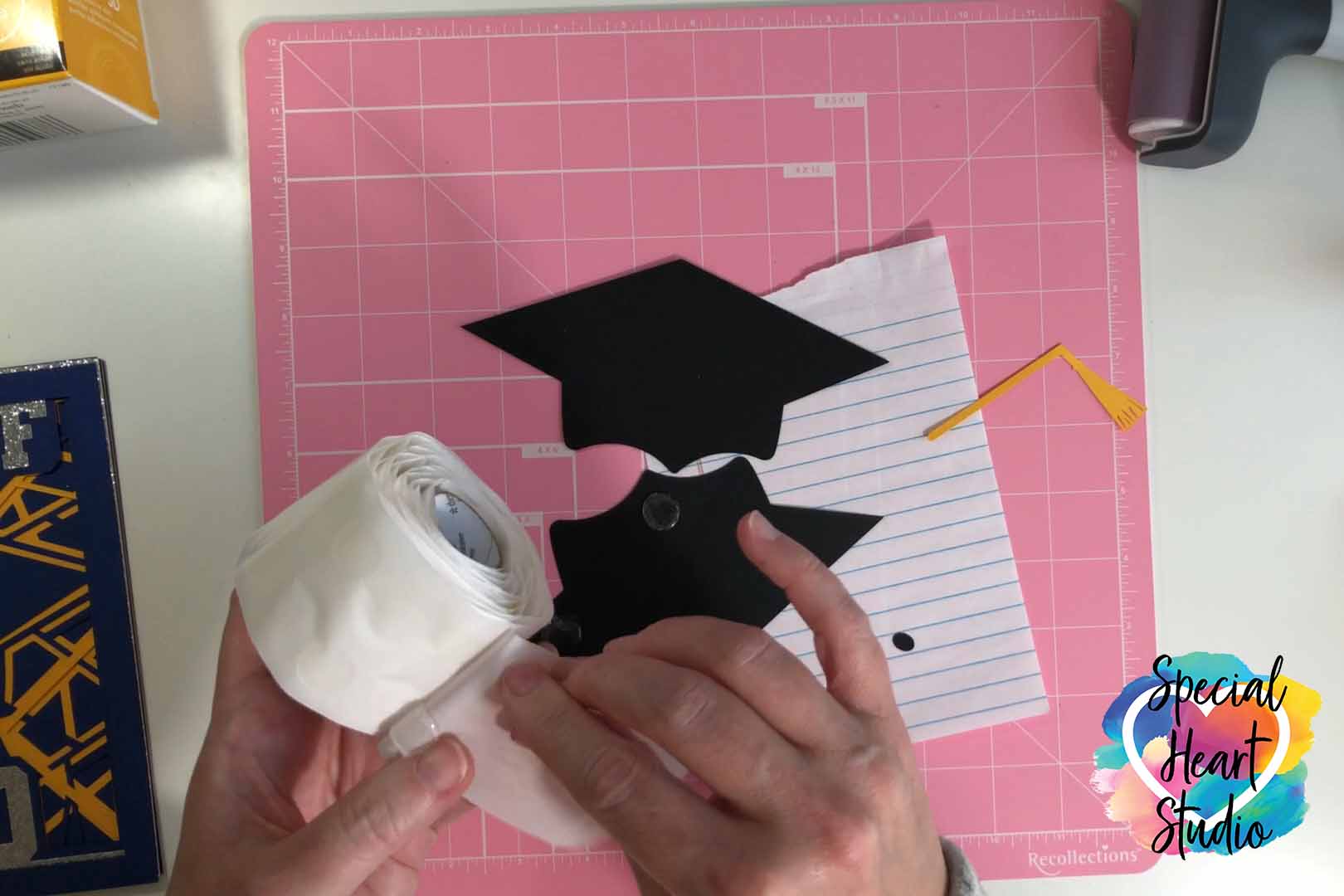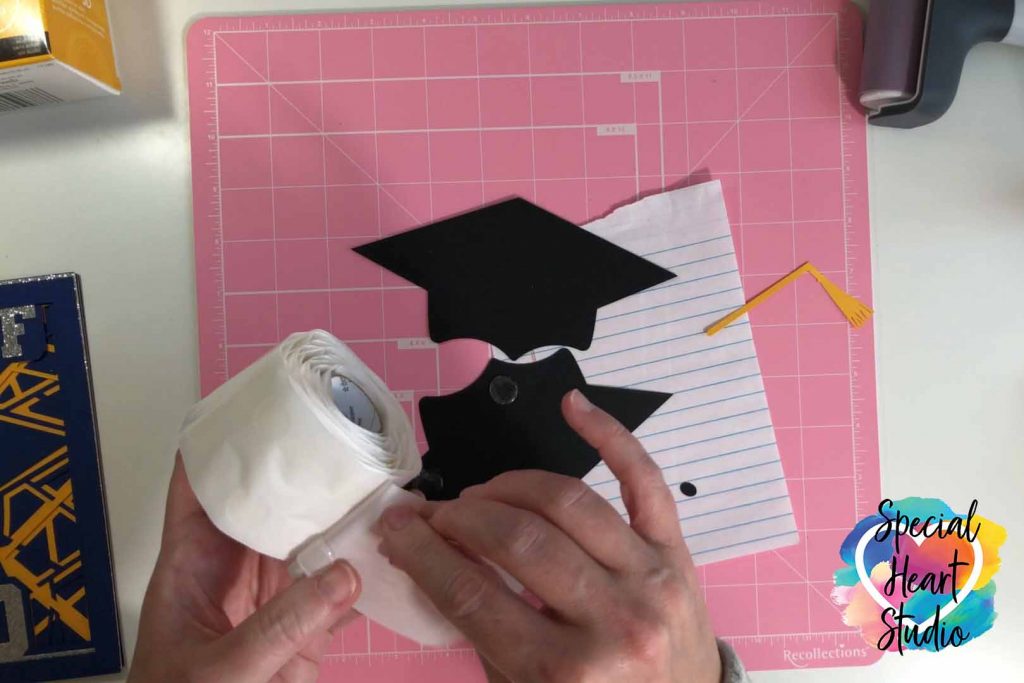 Next, glue the tassel to the hat, making sure to take note of the right direction as the other layers. (The mortarboard is not symmetrical). To complete this step, attach the button using a foam tab and place it on top of the tassel string. My foam tab was almost the same size as the oval button, so I took a black marker and colored it so that the white wouldn't show.
Add tabs between each of the layers. I've found it easiest to start working in reverse. Line up the project by removing the back of a few of the foam tabs, place them evenly, and then remove the remainder then adhere. The video (below) explains this process in more detail.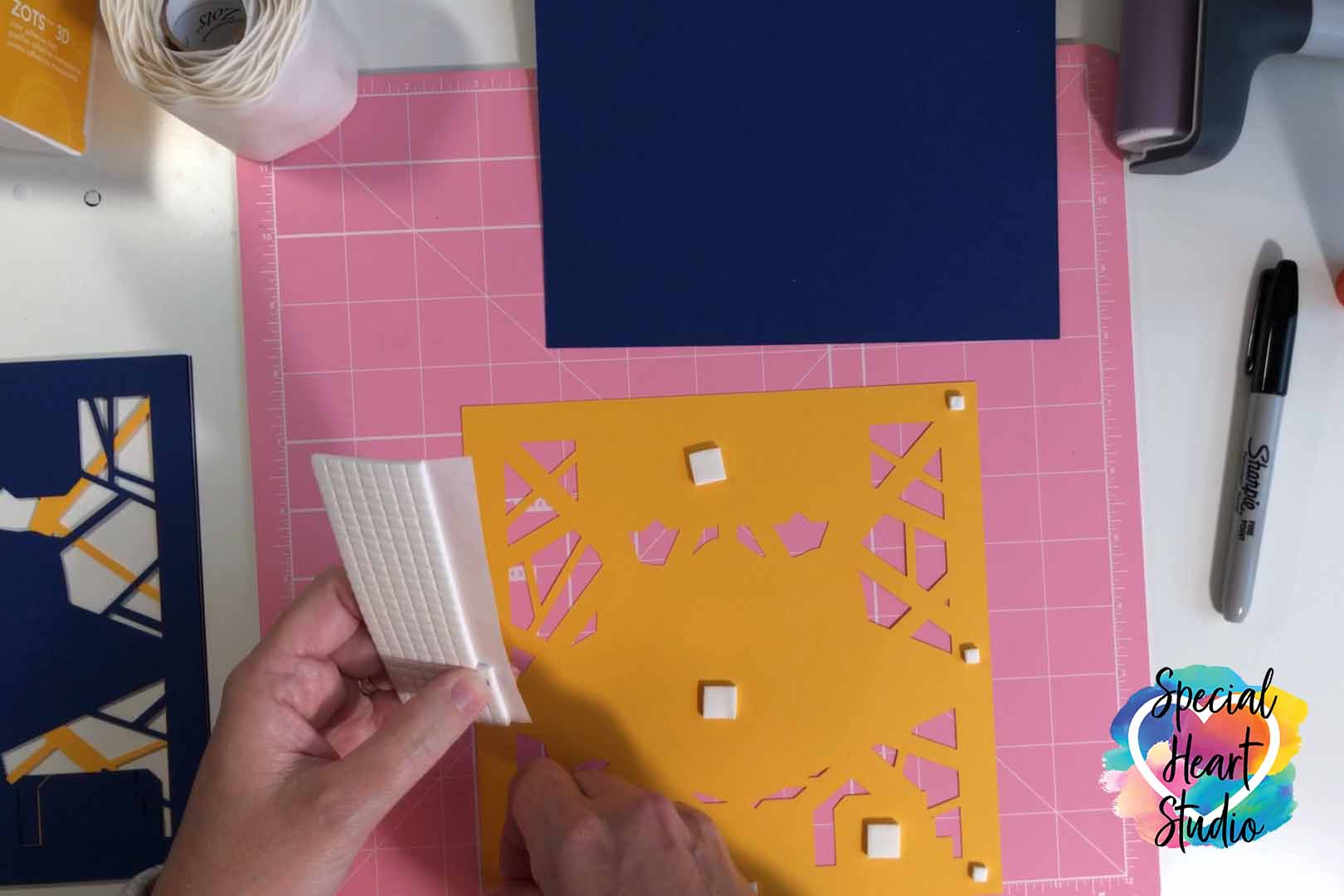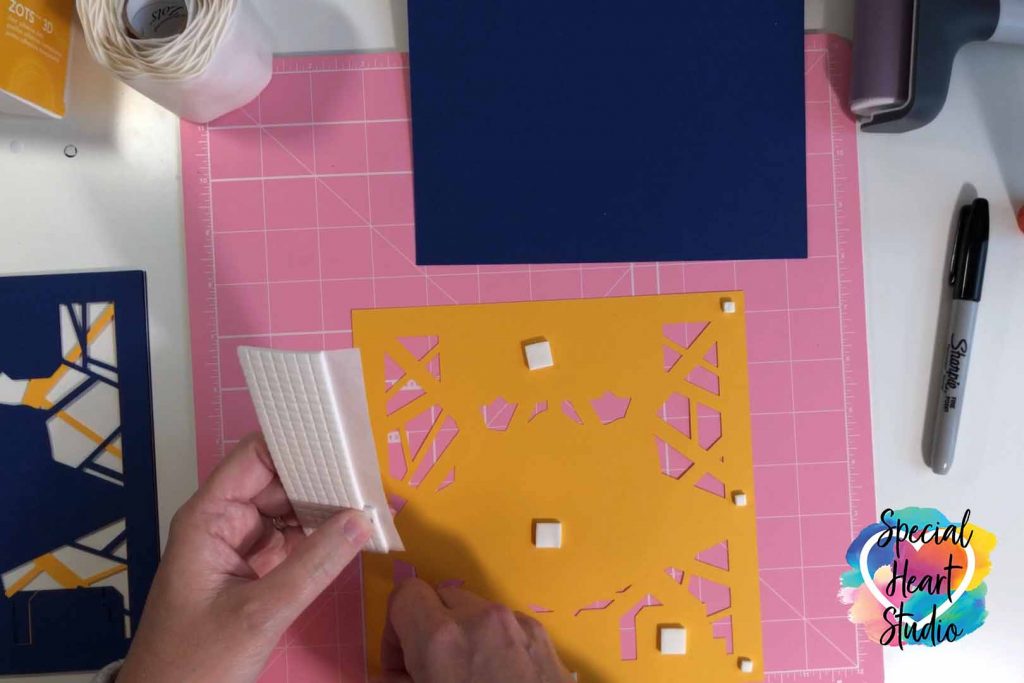 Continue to placing foam tabs between all the layers.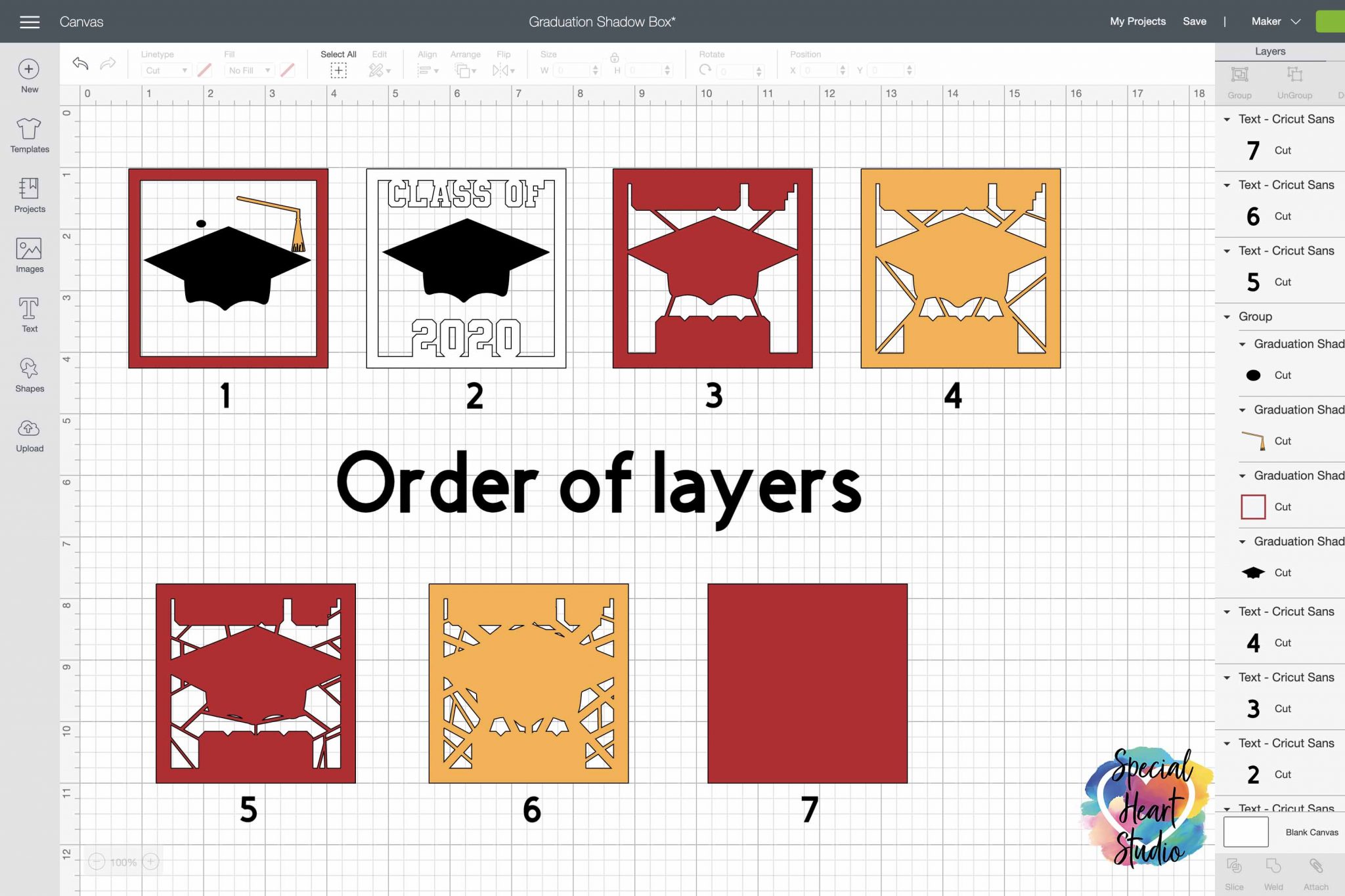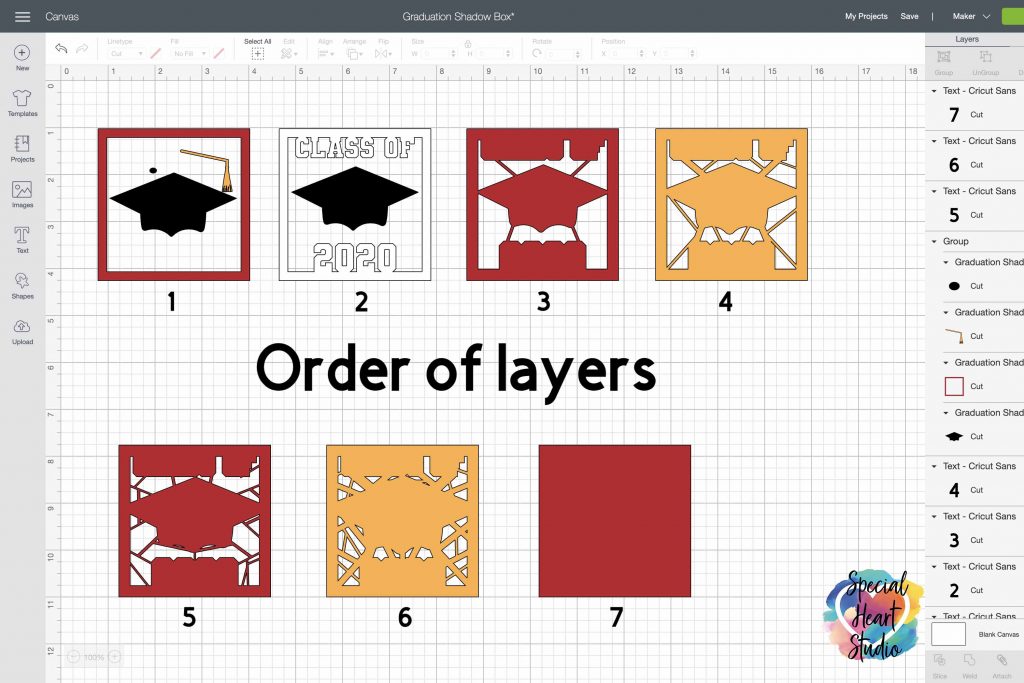 Once all the square layers are in place, the last step is to attach the graduation hat.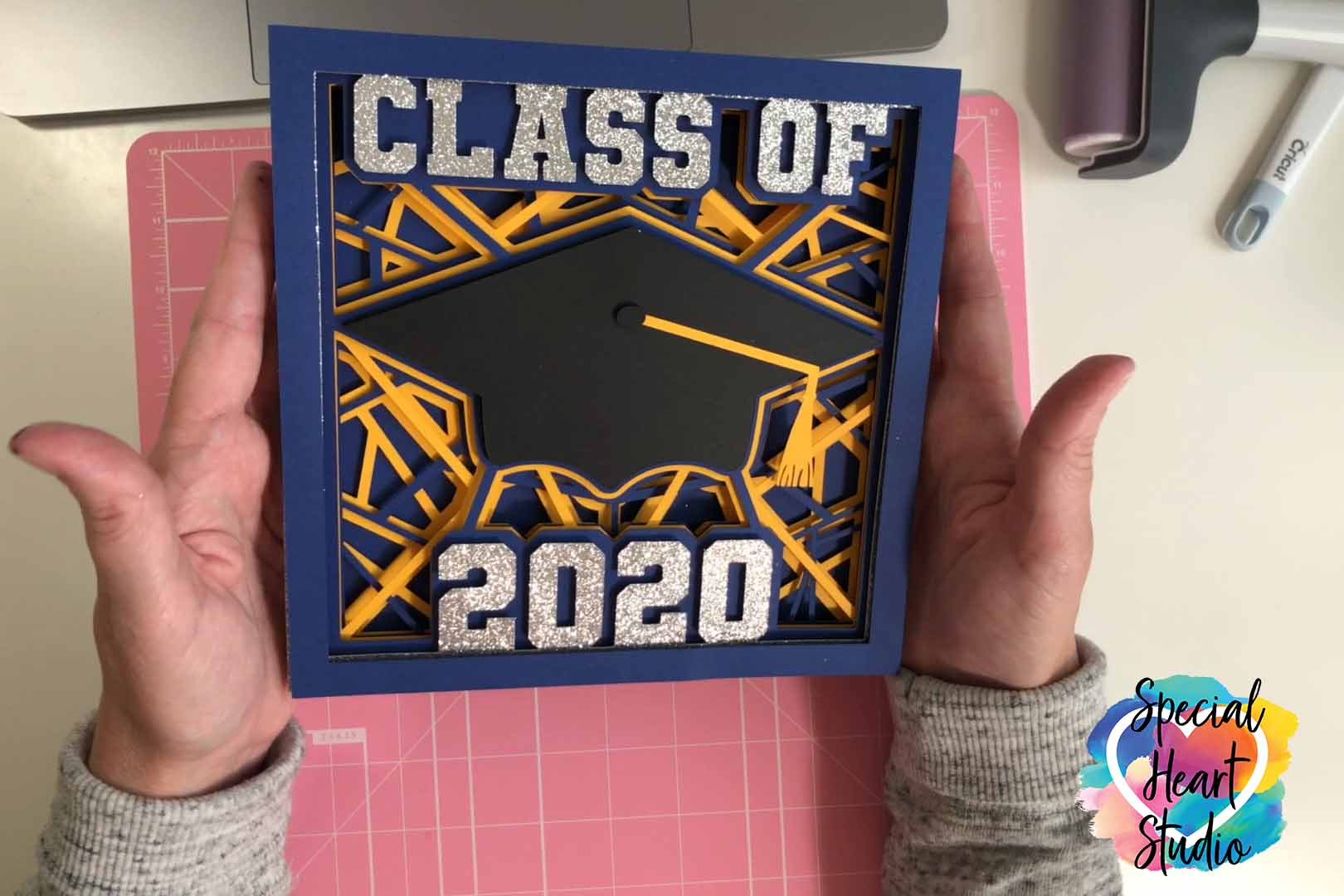 VIDEO TUTORIAL ASSEMBLING THE LAYERED GRADUATION SHADOW BOX
SHARE PRIOR TO DOWNLOADING
Please share! If you enjoy this project/design, please share it on your social media platform or your favorite Pinterest board. I greatly appreciate it!! That helps my blog continue to grow and enables me to continue to provide free designs. 💕 Thank you!
NEED A SHADOW BOX FRAME?
If you're looking to make a frame for the shadow box out of card stock or kraft board, this link will take you to my free Shadow Box SVG (and a layered mandala too).

Download My FREE Layered Graduation Shadow Box SVG Files By Subscribing Below To Get The Password To My Freebie Vault
DOWNLOAD the Layered Graduation Shadow Box SVG Cut Files – Design #53 by entering the password to my Freebie Vault. Click HERE to go to the freebie vault, my library of free downloads. To sign up for a password to my free designs, enter your name and email address below. ⬇️
New to Design Space and looking for help with how to upload? Click HERE to find directions to get started.
CHECK OUT SOME OF MY RECENT POSTS